People decide to replace their boilers for a variety of different reasons, and there are a variety of models to choose from.
Whether your current boiler has broken, or you are looking to upgrade your system, it's important to know which model will work best for you.
You may be deciding between a combi boiler or system boiler, but which one is best?
Combi boiler
A combi boiler or 'combination boiler' is popular in the UK, with many homes having this type of boiler installed.
They are smaller than a conventional boiler and can fit in a more compact space. This type of boiler works by using a combination of a tap water heater and a central heating system that is all together in one unit.
A combi boiler heats water instantly via the mains, so there is no waiting time and no need for water tanks.
Benefits
Combi boilers are energy efficient as they use modern systems.
They are great for smaller homes, as they take up less space.
They are better for the environment, as you use less water as it is heated instantly.
There is less pipework in your home, so repairs are less invasive if it breaks.
These boilers are generally less expensive to repair if there is a problem, as there is less pipework.
There's no waiting around for a tank to refill.
Most new-build homes will have this type of boiler installed.
Are you looking for a compact boiler? Then a combi boiler might be the right boiler for you. Get free quotes from boiler installers today.
System boiler
Although a combi boiler is a great option for many people, a system boiler may be more appropriate for you.
This boiler system takes water directly from the water supply and heated up using gas or electricity, it is then stored in a hot water tank until it is needed in the home.
This hot water is also used in radiators to provide heat for the central heating system, and can be reused multiple times.
They are built with the expansion vessel and pump built in, meaning they are easy to maintain and install. They are most suited to larger homes with more than one bathroom.
Benefits
If your home has an airing cupboard or loft space, this can be the ideal place for the hot water tank.
These boilers are compatible with solar water heating systems, increasing the money you can save on household bills.
Great for a household that uses a lot of hot water at the same time.
You can store clothes or towels in the cupboard where the water tank is, to keep them dry.
Do you have a larger property and needing a new heating system? Why not replace your older system boiler or install a new one? Receive free quotes from boiler installers today.
What are the differences between a combi boiler and system boiler?
A combi boiler takes up less space.
System boilers can handle high demands of hot water such as 2 or more showers..
Both are economical, but a system boiler will have a bigger impact on reducing your carbon footprint.
There is a short wait for hot water with a system boiler, as it is not supplied instantly.
A system boiler can handle heating your home and your water simultaneously.
With a system boiler, once the hot water runs out, there is no supply until the tank refills.
Installing a combi boiler is generally cheaper as there is less pipework.
Combi boilers aren't suitable for homes in an area with low water pressure.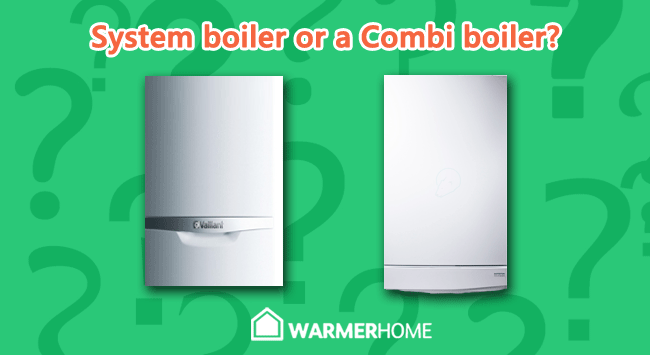 What are the differences in costs between a combi and system boiler?
If you're going to install a boiler, the costs are an important part, right?
So, what are the average costs?
Combi boiler: Installing a combi boiler costs on average between £1,500 to £2,000 (this includes labour costs, the boiler and VAT).
System boiler: Installing a system boiler costs on average between £1,700 to £2,500 (this includes labour costs, the boiler and VAT).
So a system boiler is on average 20% more expensive than a combination.
These costs are based on a 'same location swap'. So if you want to replace an old combi boiler for a new system boiler the installion costs are higher.
Compare Boiler Installers
No-obligation - Free of charge
When to choose a combi boiler?
A combi boiler will be the best option for you if you live in a small or mid-size home. If you're considering having a combi boiler installed, it's key that you are aware of the advantages of the system and when it's right for you. A combi boiler is also a great choice because:
Combi boilers cost less to install.
Homes with a low demand for hot water will get the most benefit from a combi boiler.
They are better for smaller homes with 1 bathroom.
They are great if you live alone or with a partner.
You have access to hot water instantly.
They are energy efficient and economical.
They are more convenient and simple to install.
You can save money on your household bills.
When to choose a system boiler?
A system boiler could be the best option for you, as it may suit your lifestyle and household use more efficiently. Your professional boiler installer will most likely recommend you install a system boiler if:
You have a larger home with 2 or more bathrooms.
You need hot water from multiple outputs at once.
You have a high demand for hot water throughout the day.
Which boiler is the most suitable for your home? Ask boiler installers for advice. Get free boiler quotes.
Get quotes from boiler installers near you
For further information on the most suitable boiler, get in touch with your local boiler installer. They will be able to answer any questions and give you the best advice.
Not all boilers are suitable for all homes, so it's essential to check with your local installer before you make a decision.
It's a good idea to obtain no-obligation and free quotes from different installers, so that you know you're getting a good deal.