With the cost of property increasing, more and more people are looking to make the most of the space in their existing homes. This often means looking upwards, to the loft.
Modern spaces require modern lighting solutions and the roof window is becoming a popular option.
But what is the cost of a roof window, and how do you know which window suits your needs best?
This article will outline the pros and cons of installing a roof window, and will outline the number of options available to you.
What is a roof window?
A roof window is the installation of a window into the roof of a building. This is normally done by measuring out the space between the rafters and fitting a window of an appropriate size.
Roof windows are windows installed directly into an existing roof and should not be confused with other types of structural additions such as a dormer roof.
Why do you need to opt for PVC or uPVC roof windows?
When looking to make any changes to your home it is important to understand the effect that they may have. For instance it is very important that you make the right decision regarding what type of window you install in your roof.
Insulation
By installing a PVC or uPVC window you are safeguarding the insulation of your home.
You need to make sure that insulation and well insulated windows are a priority when installing a window in the roof.
What are the benefits of roof windows?
The addition of a new roof window can provide natural light to your home where once there was none.
A roof window can also be used to properly ventilate an area, and improves the overall air circulation in your property.
By adding a roof window you are able to make a space within the home more comfortable habitable.
The addition of a roof window often helps to open up part of your property for more regular use, for example in a loft conversion.
When should you replace your roof windows?
If you are looking to replace your roof windows it is important to weigh up the options available, the most popular options at the moment are those that are presented below
Double glazing: Double glazing will allow a property to naturally warm up through natural sunlight. There are different types of double glazing. Opt for insulated glazing to save on energy costs.
Low-E glass: Low-E glazing allows for better control over the temperature inside your home. Low-E glazing prevents heat from entering during the summer, reducing the amount of money spent cooling the property.
It also works to keep the ambient temperature level inside a property, meaning that in the winter it costs a lot less to heat your home.
Triple glazing (Low-E): Triple glazing serves to insulate a property better and also reduces the amount of noise entering a property.
Opt for a roof window with insulated glazing. Get your free (u)PVC roof window quotes here.
What are the different types of roof window?
Below you find an overview of the different types of roof window.
Center pivot windows
These are the most popular type of roof window available, one of the main reasons for their popularity is that they are available at a lower cost than other the other types.
A center pivot widow can cause some issues because when they open that can become an obstacle that people can walk into.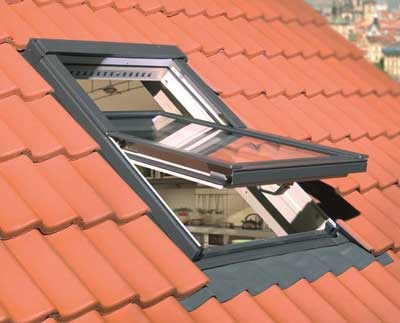 Source photo: selcobw.com
Top hung roof windows
Top hung roof windows are operated using a handle at the bottom of the window. The window can be used by opening it outwards meaning that it does not create an obstacle inside the property. Top hung windows offer a clear view and are easy to access for cleaning.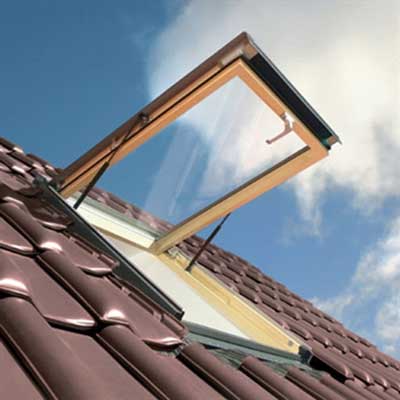 Source photo:
Side hung roof windows
Side hung windows offer a wide opening in the roof that can be used in emergency scenarios, with easier access to the roof. The open outwards and offer an unobstructed view.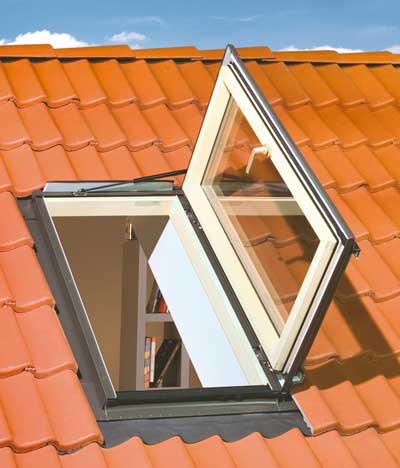 Source photo: archello.com
Top third roof windows
Top third roof windows are similar to centre pivot windows but have a slightly higher hinge. This means that it creates less of an obstacle in the room because a smaller percentage of the window opens into the room.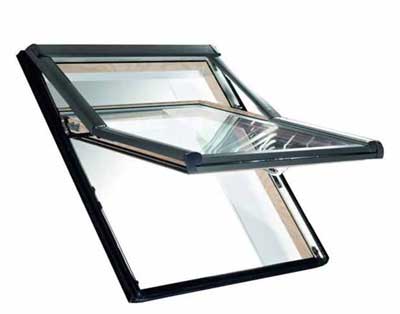 Balcony roof windows
Balcony windows are the very pinnacle of roof windows and act as an interesting feature to the room when opened.
When closed they look like a normal window but upon opening turn into a small glass balcony. It is important to note that they should not be used as an actual balcony.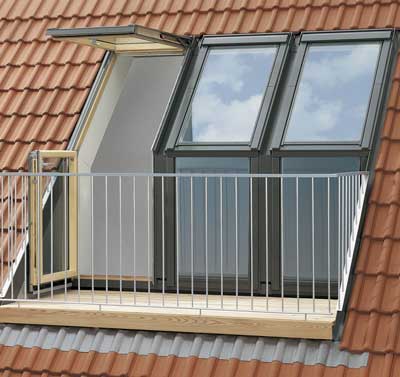 Source photo: dornob.com
Which roof window is suitable for your home? Ask a roof window installer for advice and make sure you get the best fit for your home. Get your free roof window quotes here.
What are the difference between lanterns and skylights
This is a question that is often asked when dealing with roof windows, what is the difference between a roof lantern and a skylight?
A skylight is set into a roof at the same angle as the roof in order to provide more natural light or ventilation to a property.
A roof lantern is something specifically designed to be installed in a flat roof. Because of the nature of a roof lantern they allow for a lot more light into the home and are often regarded as architectural statement pieces.
How much do roof windows cost?
You must be curious about the costs of the different types, right?
In the overview below, you find the average costs. These costs include installation as well as insulated glazing.
Center pivot windows
Top hung roof windows
Side hung roof windows
Top third roof windows
Balcony roof windows
Get quotes from roof window installers
With more people becoming aware of how to increase the size of their homes, loft conversions and therefore roof windows are becoming more popular.
A uPVC roof window is major investment and should not be taken lightly. Whether you are installing a completely new roof window or replacing an older piece, you are still dealing with a hole in the roof of your home.
Request multiple quotes in one go through our quote service, so can quickly compare local installers on price and quality to ensure you get the right people for the job.