Do you want a pleasantly warm floor in the bathroom, but don't know where to start?
In this article we will tell you more about the different methods of underfloor heating, what the benefits are and how it's installed.
Types of underfloor heating
For heating your bathroom, you can opt for electric underfloor heating or water underfloor heating. Electric underfloor heating is the preferred option for bathrooms.
Electric underfloor heating: People usually tend to choose electric underfloor heating in the bathroom, since it's more convenient.
Electric underfloor systems consist of heating cables or thin mats that are placed directly underneath the floor.
Electric floor has a fast response time but is less energy efficient than water underfloor heating.
Water underfloor heating: With underfloor heating, the bathroom floor and space is heated by means of warm water that flows through tubing.
As the name already suggests, warm water is required for this form.
This heat is obtained by a boiler or a heat pump. These heating devices deliver warm water that circulates through the tubing.
Which type of underfloor heating do you prefer? The 'cheap to install' electric floor heating or energy efficient water underfloor heating? Get quotes from underfloor heating installers today.
What are the benefits of electric underfloor heating in the bathroom?
You will find the benefits of underfloor heating in the bathroom below:
Electric underfloor heating is very easy to install. No tubing is required, and the system therefore does not have to be connected to central heating. The heating system only needs to be connected to your electrical grid.
If you opt for electric underfloor heating in a (thin) mat, then only a thin subfloor is required.
The purchase and installation are relatively cheap, so that even people with a small budget can choose to install an electric underfloor heating system.
Electric underfloor heating has a short response time, so you don't have to wait that long before your bathroom is pleasantly heated.
Because a bathroom is not used constantly throughout the day, electric underfloor heating saves costs as the bathroom only needs to be heated when there is a demand.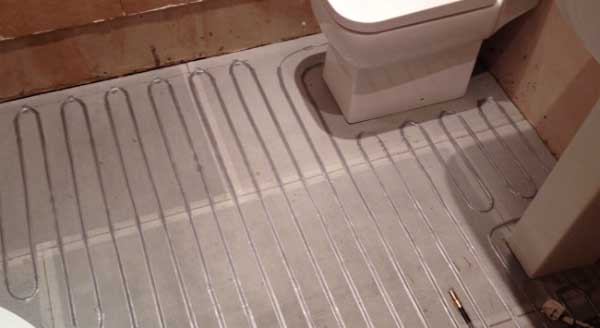 Insulation beneath underfloor heating
If you have electric underfloor heating installed, it is always recommended to install insulation underneath. This way, your underfloor heating will be much more efficient. Insulation prevents the heat from escaping partially through to the subfloor.
You then need to use your heating system less, which will limit your energy costs. Insulation underneath the underfloor heating can consist of insulated panels or insulated subfloor.
Main heating or additional heating
When it comes to a large room such as a living room, the underfloor heating is often used as additional heating. The underfloor heating is then used in addition to the radiators. The reason for this is that the radiators cannot sufficiently heat the room.
If you are heating a smaller space, such as the bathroom, you could use underfloor heating as the main heat source for the space and this removes the need for radiators. The underfloor heating is often sufficient enough to heat the entire bathroom.
If a radiator is already present in the bathroom, you can use the electric underfloor heating as additional heating.
The advantage of electric underfloor heating as additional heating is that you can install a system with a lower capacity.
Underfloor heating with a lower capacity costs less energy.
Will your underfloor heating be your main or additional heat source in your bathroom? Ask underfloor heating installers for advice and request free quotes now.
Setting the heating
You can operate electric underfloor heating in several different ways.
Manual thermostat: The most common way to set the underfloor heating is via a manually operated thermostat. Using this thermostat, you can set the temperature from the moment that you go into your bathroom.
Wifi and app: Houses are getting smarter and thermostats too. Now there are electric underfloor heating solutions available that you can operate using an app on your mobile through Wi-Fi.
Which flooring is suitable for underfloor heating?
You can choose different types of flooring to cover electric underfloor heating:
Ceramic tiles: These baked tiles are most often used as flooring in bathrooms. These are extremely suitable as underfloor heating. Ceramic tiles conduct heat very well, so that the floor is heated quickly.
Natural stone tiles: Natural stone is also very suitable as flooring in the bathroom. A natural stone tiled floor also conducts the heat very well, which will quickly raise the temperature in the bathroom to a pleasant level.
Cast floor: With a cast floor you get a floor without seams. The different types of cast floors can be perfectly combined with underfloor heating.
Concrete Ciré: A concrete Ciré floor can easily be installed with underfloor heating. Concrete Ciré gives the bathroom a sleek look.
Request free quotes from local underfloor heating installers
Are you considering installing electric underfloor heating in your bathroom? We recommend that you get quotes from various underfloor heating installers.
Request free quotes, compare and get a warmer bathroom floor.