When working on a listed building, there are rules and regulations that must be complied with before any work takes place. The reason a building is categorised as listed is to protect its historical significance, and to preserve it for future generations.
Therefore, any changes like double glazing must be completed with the appropriate permissions.
Can I install double glazing in a listed building?
To replace current windows with double glazed windows, you will need to make a strong case to your local council to show it will not negatively impact the character of the property.
Double glazing can sometimes be installed in a listed building, but it is not common.
However, you may be allowed to conduct repairs on original windows. You'll need to consider the following if you're thinking of installing double glazing in your listed property:
What grade the property is listed as.
Why you want to replace the windows.
Can your installer match the style and character of the home?
Can they be repaired instead of replaced?
Will your local council grant permission?
What are the different types of listed buildings?
It's important to know what type of listed building you are working on before you get started. To find out, go to The National Heritage List for England (NHLE) website, which has details of all the listed buildings in England.
It also details what has qualified the property to be listed, which can be interesting for homeowners.
The types of listed building are:
Grade I
Grade I buildings are considered to be of exceptional interest and just 2.5% of listed buildings fall into this category.
Grade II*
5.8% of listed buildings are Grade II*. They are particularly important buildings of more than special interest.
Grade II
This grade is the most common and 91.7% of listed buildings fall into this category. They are buildings of special interest and have the strictest rules and regulations. They are buildings of special historical or architectural significance.
In Grade II listed buildings, double glazing can sometimes be installed.
You will need to get planning permission prior to installation. The windows will need to have a narrow profile and a maximum thickness, so they suit the aesthetic of the property.
Keep your original windows with and add secondary glazing to improve your energy efficiency. Get free secondary glazing quotes now.
Listed building consent
You will need to obtain permission from your local authority or council before you begin any work on a listed property. This is called 'Listed building consent'. Every council will have a different application process so it's important to check with your local authority.
They make their decision on a case by case basis, so be sure to include as much detail as possible in your application.
How to get permission?
Repairing or replacing the windows in a listed building without obtaining permission is against the law. So it's essential that you follow the correct procedures.
You will need to apply to your local council for permission to carry out the work. They will need to know specific information about your plans including:
Why you are repairing/replacing them? The planning office will need to see evidence of a 'justifiable cause' for your actions. For example to
improve energy efficiency or safety.
Evidence that you are using glazing installers who are experts in working on listed buildings.
Provide photos or professional drawings if you can.
Be honest in your application, the council is likely to carry out checks.
Compare Glazing Installers
No-obligation - Free of charge
Secondary glazing as an alternative
If you have been denied permission to replace your windows, don't be too disappointed, as secondary glazing is an option. This independent system is installed to the room side of the window to improve the energy efficiency and sound proofing.
Read here more information about secondary glazing.
Therefore, the original glass and frames remain untouched and the character of the property is preserved. The benefits of installing secondary glazing are:
You will also save money on your energy bills, just like double glazing.
Secondary glazing is significantly cheaper than replacing your windows or installing double glazing.
It can often be installed without obtaining permission from the local authority.
There are lift out or fixed options depending on your needs. The lift out system can be removed in warmer weather if needed.
It can be installed in a range of window styles including sash windows.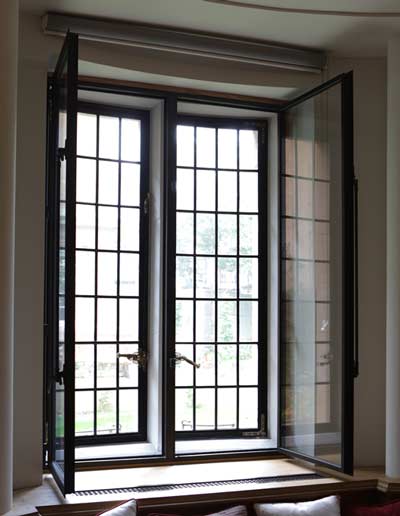 Source photo: bronzecasements.com
Get quotes from glazing installers
It's key to find a professional who has experience repairing or replacing windows in listed buildings.
Use the WarmerInside free quotation service to receive multiple quotes from glazing installers.