Do you need to replace your old sash windows with energy efficient uPVC windows? You do not have to opt for standard uPVC windows, you can also choose the uPVC sash windows.
Sash windows are stylish and elegant, and will make a fantastic addition to your home. Even if they are made from uPVC.
What is a sash window?
A sash window is made from moveable panels that have two frames, both of which can slide vertically. There are two cords that allow the movement, that are counterbalanced by weights. All-in-all a classic, but ingenious mechanism.
Sash windows were first introduced in the 17th Century and are traditionally made of timber, but uPVC sash windows are also popular these days. The windows slide over one another, allowing an open space for air to flow through.
When choosing your uPVC sash windows, it is important to think about whether you would prefer a single or double hung window.
Single hung: The single hung option means there is only one sliding window.
Double hung: Double hung sash windows have two sliding window parts.
What are the differtent types of sash windows?
It is essential to choose the right design of sash window for your home and style preference. Take a look at the styles below for more information:
Georgian sash windows
Sash windows were first introduced in the Georgian era and are still a popular style today. This style has 2 widow casements, one of which moves and the other does not.
They generally feature six tiles in each window, however there can be more than this, as there are lots of options and variation available with Georgian sash windows.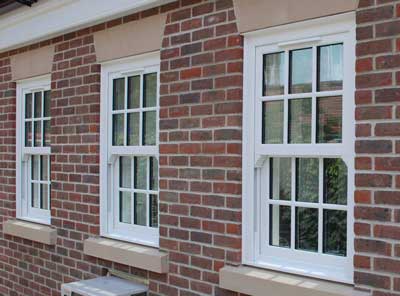 Source photo: connaughtwindows.co.uk
Victorian sash windows
The Victorian style is similar to the Georgian style, but has fewer panels. Sash windows from this era generally have 4-6 panels and have a single glazing bar.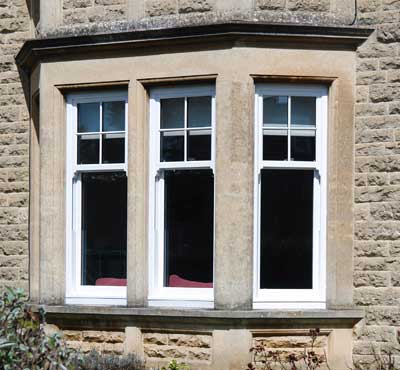 Source photo: easiglaze.co.uk
Compare uPVC Window Installers
No-obligation - Free of charge
Venetian sash windows
The venetian sash window has a unique design, but still has that classic sash look. It has two fixed panels either side of the central window, which slides open in the traditional sash style.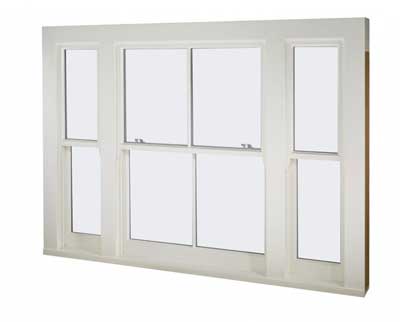 Edwardian sash windows
At the beginning of the Edwardian era, sash windows were at the peak of popularity.
The most popular style featured six tiles on the top panel and 2 tiles on the bottom panel, which kept everything symmetrical and let more light in. Like a bay window.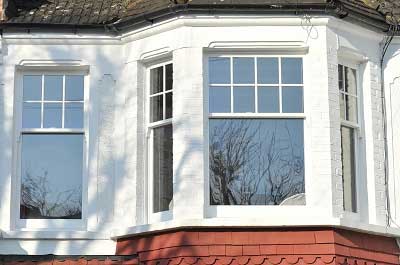 Why choose uPVC sash windows?
Sash windows are a great choice for many homeowners.
Perhaps you have an older home with original timber windows that need updating or want to add a striking design touch to your current home. They are also a great choice because they are:
Low maintenance and easy to clean.
More energy efficient than timber sash windows.
Versatile in their design and usage.
Safe and secure to give you peace of mind.
Is it not possible to install new uPVC sash windows? Opt for secondary glazing to better insulate your existing sash windows.
What are the disadvantages of uPVC sash windows
Although there are many benefits of having sash windows, there are some disadvantages to consider:
Due to their design, sash windows can only be opened to the size of one panel, which means they do not allow as much ventilation as traditional windows. This may increase the chance of condensation and allows less air flow into your home.
If your sash windows have timber frames, they can be difficult to maintain and hard to clean as wood will wear over time. However, uPVC is low maintenance and will last much longer.
What are the benefits of replacing your old for uPVC sash windows?
If you choose to replace your windows, you'll enjoy lots of benefits that will confirm you've made the right choice.
uPVC is the most popular material when it comes to windows thanks to its excellent energy efficiency. You will save money on your household bills as your new widows will keep your home warm in the winter and cool in the summer.
Stunning new windows are always attractive to potential buyers, so they are an investment.
They will add lots of character to your home.
Energy efficient windows are better for the environment.
Do you want to replace your tired sash windows? Get your free uPVC window quotes here.
Save money by choosing energy efficient glazing
Choosing the right glazing is important when having new windows installed. Take a look at the options below to help you decide which glazing would be best for you:
Double glazing: double glazing will allow natural sunlight to heat up your home naturally.
Low-E glass: Low-E glazing allows for better control over the temperature inside your home. It keeps your home cool during the summer and also works to keep an ambient temperature inside your home.
Triple glazing (Low-E): Triple glazing insulates your property more efficiently and reduces the amount of noise entering a property.
Choose energy efficient glazing in your new uPVC sash windows. Get free quotes from uPVC window installers.
Choose tilt and turn windows as an alternative
Tilt and turn windows are practical and versatile, as they can be opened in two ways – either fully, or tilted on a hinge mechanism.
Other benefits are:
They offer great variety when it comes to ventilation.
Tilt and turn windows are easy to clean.
Weatherproof design.
Increased security as the window can be locked even in the tilt position.
What do uPVC sash windows cost?
uPVC sash windows are affordable. uPVC is even less expensive than wooden sash windows. You pay, on average £150 more for a timber sash window.
So, let's take a look at the average prices and installations costs of uPVC sash windows.

Double glazing
(W 61 x H 91.5 cm)
Standard white
£500
Coloured / wood effect
£650
Triple glazing
(W 61 x H 91.5 cm)
Standard white
£725
Coloured / wood effect
£875
Get quotes from uPVC window installers
If you are considering upgrading to uPVC sash windows, then getting quotes from local window installers is the best place to start.
Get free and no-obligation uPVC window quotes through the WarmerInside quote service.