If you're thinking about upgrading your windows, tilt and turn uPVC windows could be a great option for you.
They are a popular choice for homeowners as they are a practical and versatile choice.
Check out this handy guide below to find out if tilt and turn uPVC windows are the best option for you.
What are tilt and turn uPVC windows?
Tilt and turn windows are unique as they feature a hinge mechanism, that means they can be opened in two ways.
They can be fully opened, but only open inwards, whereas a casement window or French window open outwards.
Tilt and turn windows can also be tilted from the bottom which leaves a smaller gap, if you don't wish to have the window fully open.
For safety reasons you can install a window restrictor on your tilt and turn window(s). A restrictor makes it harder to break in.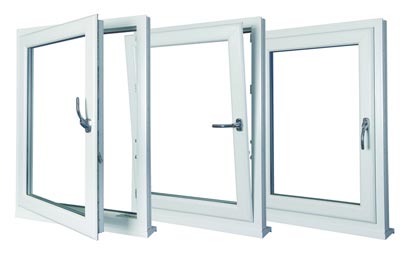 Source photo: kjmgroup.co.uk
How do a tilt & turn windows work?
Tilt and turn windows have a specially designed handle that is used to open and close the window in two different ways. If you turn the handle mechanism 90°, the window will open fully inwards, for when you want maximum ventilation.
You can also turn the handle 180°, which will allow you to open the window using the tilt motion and you can lock it securely in place.
Are you looking for a versatile uPVC window? Opt for a uPVC tilt and turn window. Get free window quotes now.
What are the benefits of tilt and turn uPVC windows?
This type of window is becoming a very popular choice amongst home owners and it's easy to see why, as choosing tilt and turn uPVC windows has many benefits including:
Allowing great choice when it comes to ventilation.
They allow lots of natural light into the room.
The inward opening feature means they are easy to clean.
The wide opening means the windows can be used as an emergency exit.
They are highly secure and can be locked in tilt and fully open positions.
These windows can be opened even in windy or rainy conditions, as the anti-slam mechanism stops the window slamming shut in the wind and in the tilt position, rain runs down the window and into the designated drainage system.
Tilt and turn windows are a great option if you have children, as they can be opened on the tilt hinge but still be locked securely.
You will have peace of mind that no one can get in or out, as they cannot fit through the gap.
They are energy efficient as they are air-sealed and offer good insulation, so you will save money on your household energy bills.
They will keep your home cool in the summer and warmer in the summer, meaning they are an eco-friendly choice and will help reduce your carbon footprint.
What are the disadvantages of uPVC tilt and turn windows?
Like any home improvement project, it's important to consider the cons of this type of window too. Some things you may want to consider are:
Have larger frames to accommodate the mechanisms, so you will need to check the space you have and how this fits in with the aesthetic of your home.
Can be costly to repair due to the complexity of their design.
Open inwards, so you will need to consider where they are installed and ensure you have enough space for the window inside the room.
You will need to be considerate of where you place furniture and ornaments in the room where the window is installed as they may hit them when they swing inwards to open fully.
Are generally more expensive than other windows as they are larger and more complex to make and install.
You may have to purchase custom curtains or blinds to fit your tilt and turn windows.
Compare uPVC Window Installers
No-obligation - Free of charge
Choosing the right type of energy efficient glazing
As well as choosing the design of your windows, you'll also need to decide which type of glazing to have. Take a look at the options below to help you decide which glazing would be best for you:
Double glazing: Double glazing will allow natural sunlight to heat up your home naturally. While the tilt function will allow for excellent ventilation.
Low-E glass: Low-E glazing allows for better control over the temperature inside your home, therefore saving you money on heating and cooling your home. Low-E glass also keeps your home cool during the summer and also works to keep an ambient temperature inside your home.
Triple glazing (Low-E): Triple glazing insulates your property more efficiently and are very energy efficient. Three-pane glazing is also very good for reducing noise.
Choose for energy efficient glazing in your tilt and turn windows. Request quotes from local window installers now.
What are the differences between casement and tilt and turn windows?
You may be torn between installing casement windows or tilt and turn windows, so it's good to know the differences between them. Casement windows are a common choice for UK homes, but tilt and turn are becoming more and more popular.
But what are the main differences?
Casement windows open outwards, whereas tilt and turn open inwards.
Casement windows do not open as wide, so let in less fresh air.
Tilt and turn windows are more expensive than casement windows.
Casement windows are hinged at the side, top or bottom, but have no tilt function.
Casement windows are more difficult to clean as they open outwards.
Both are economic as uPVC is an energy efficient material.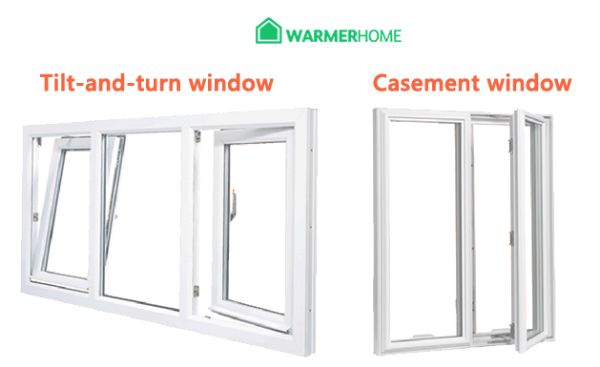 What do uPVC tilt and turn windows cost?
Are you interested in uPVC tilt and turn windows? The costs are an important thing to consider when you're looking to replace your windows.
The average costs in the overview include installation, VAT and the price for the window itself (with double-glazing).
uPVC tilt and turn widows
With double glazing
(W 80 x H 100 cm)
Standard white
£500
Coloured / Wood effect
£625
With triple glazing
(W 80 x H 100 cm)
Standard white
£725
Coloured / Wood effect
£865
Ask for a price quote to discover what a uPVC tilt and turn window will cost for your home. Get your free quotes now.
Get free quotes from (uPVC) window installers
The exact cost of the tilt and turn or other uPVC window depend on the installer you choose and the quality of the windows. Make sure to get a few quotes before you commit, to ensure you're getting the best quality for the best price.
Get free uPVC window quotes through the WarmerInside quote service now.