Casement windows are an attractive and efficient choice, making them very popular amongst homeowners.
They come in different styles – making them suitable for a wide variety of homes and installing this type of window into your home comes with many benefits.
What is a casement window?
What sets casement windows apart from other styles is the way that it opens. Unlike a traditional sash window, a casement window opens outwards using a mechanical crank. This mechanism can be manual or automatic and opens the window outwards, using a handle.
Casement windows are rectangular and have two hinges along the side, and are pushed open or pulled closed using the handle which operates the mechanism. Casement windows also come with a multi- locking system, for increased security and peace of mind.
What types of uPVC casement windows are there?
There are different types of casement window, and your decision will depend on the style of your home, budget and preference.
Single frame casement windows
These casement windows are the most common and standard variation. They consist of one window panel opening outwards via a hinge located on the side of the frame. They are often installed in smaller rooms and bathrooms, where the view is not a focal point.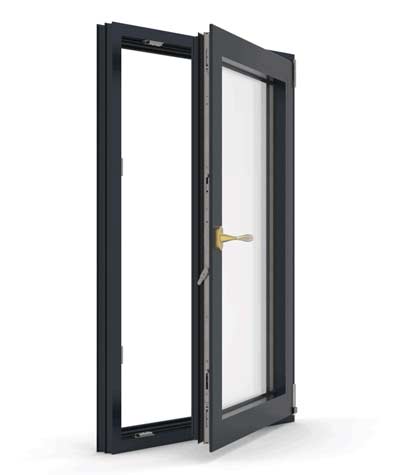 Double frame casement windows
Double frame casement windows consist of two large window panels that open outwards and meet in the middle.
The left window is attached via a hinge on the right side, and the right window is attached via a hinge on the right. They are also referred to as French casement windows, as they look very similar to French doors and will add an elegant touch to your home.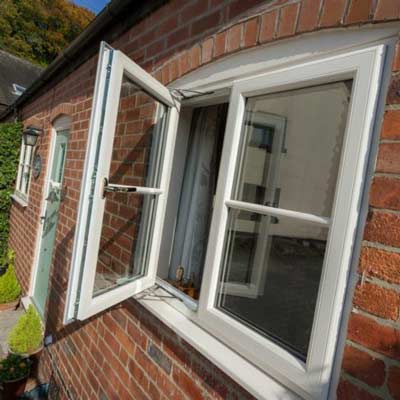 Source photo: synergy-windows.co.uk
Triple frame casement windows
This type creates a stunning central feature in any room, as they are similar to large (uPVC) bay windows without protruding outwards. Each window can be opened individually as they have separate hinges for each panel, so you can easily control the ventilation in the room.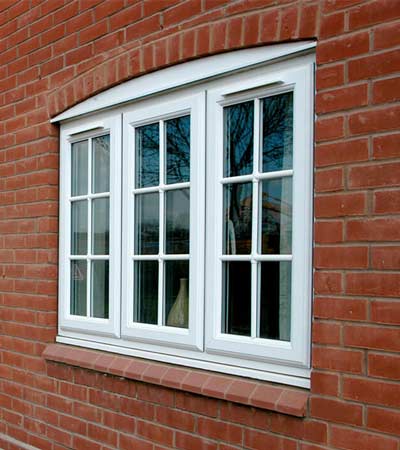 Source photo: leamorewindows.com
Push out casement uPVC windows
Push out casement windows are available in either single or double frame styles. The windows are opened using a handle instead of a crank and need to be pushed open, rather than opening via a mechanism.
Are you looking to replace your tired and old casement windows? Choose new energy saving uPVC windows. Request quotes from local uPVC window installers today.
What is the difference between a flush and non-flush casement window?
Flush fitting windows have a history that dates back over 200 years and have become more popular recently. They are different from non-flush casement windows as they do not have a 'lip' and fit completely level with the frame.
Here are a few more differences between the two:
Flush windows are a classic design with a unique look.
Non-flush windows have a slight overhang onto the surrounding frame.
uPVC offers a range of colours and finishes so you can choose a style that suits your property.
Flush windows provide a smooth and sleek aesthetic. Flush windows are more traditional.
The opening mechanisms and cost are fairly similar so your choice will depend on which style you prefer.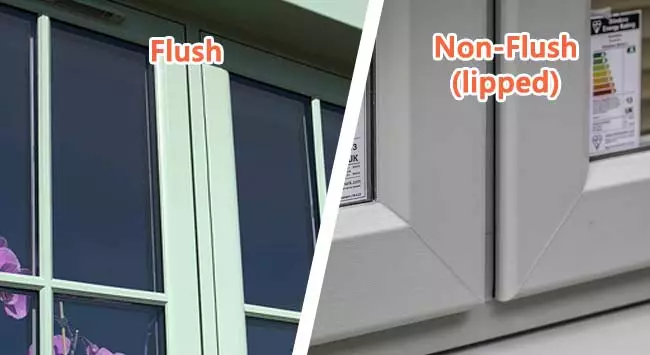 Photo sources: ll-installations.co.uk / strattonglasswindows.co.uk
What are the benefits of uPVC casement windows?
If you are looking to replace your current windows, choosing casement windows comes with many benefits including:
The internal mechanism makes them very easy to open.
You can easily control the level of ventilation into your home.
Casement windows are easy to clean.
They work well in hard to reach areas as they can easily be opened with one hand.
The security of the casement means they will not swing in the wind, reducing the likelihood of any damage.
They are a very safe design as they have multiple locking points.
uPVC frames are very durable.
Casement windows are energy efficient as they have a tight seal around the frame, so you will save money on your household bills.
They are great for soundproofing as their sealed design prevents unwanted noise entering your home.
What are the disadvantages of casement windows?
When looking to upgrade or replace your windows, it's important to research the pros and the cons of each style, as casement windows are not suitable for everyone.
Costs can be high depending on the style of window you choose.
Quality can vary, so it's important to choose a high quality window to ensure they will be safe, secure and durable.
As they swing completely open, it can let in dust and insects from the outside.
There are size limitations, so if you have more bespoke windows in your home, you may struggle to find casement windows that fit.
Compare uPVC Window Installers
No-obligation - Free of charge
Casement windows vs tilt and turn windows
You may also be considering uPVC tilt and turn windows, which can be opened in two ways – either fully, or tilted on a hinge mechanism.
If you are deciding between these two types of windows, you may wish to consider the following:
Tilt and turn windows can only be installed in areas where there are no obstructions, as they tilt inwards.
The tilt feature makes the windows easy to clean, inside and out.
The frames for casement windows are smaller.
Tilt and turn windows offer the option of locking securely in an open position, great for warm nights.
Although both designs are secure, no one could get in or out through the gap of a tilt and turn window.
Do you want a casement window or tilt and turn window? Ask for advice from local installers. Get free window quotes now.
Casement windows vs double hung windows
Double hung windows are a very stylish feature, as they open using an upwards sliding motion.
Knowing the differences between the two will help you decide which style is best for you.
Double hung windows may be more aesthetically suited to your home.
You can choose the level of ventilation more easily with a double hung window.
Casement windows are generally more expensive.
Double hung windows must be opened by physically pushing them.
Casement windows are cheaper if repairs are needed.
Double hung windows suit older and more traditional homes.
Casement windows are more energy efficient.
Choosing the right type of glazing
Once you have decided which style you prefer, you then need to choose the glazing. Take a look at the options below to help you decide which glazing would be best for you:
Double glazing: Double glazing allows lots of natural sunlight in, which will heat up your home naturally.
Low-E glass: Low-E glazing keeps your home warm during winter and cool during summer.
Triple glazing (Low-E): Triple glazing is great for reducing the amount of noise entering a property. It will also heat your home very efficiently.
What do uPVC casement windows cost?
Investing in new casement uPVC windows mean lower energy bills and a more comfortable home. But what are the average prices for casement windows?
The costs below include installation, uPVC casement windows and VAT.

uPVC casement windows
With double glazing
(1000x1000mm)
Standard casement window
£350
Coloured / woodgrain
£455
With triple glazing
(1000x1000mm)
Standard casement window
£473
Coloured / wood effect
£615
How to get quotes from (uPVC) window installers near me?
Hiring a window installer to carry out the work in your home is key to ensure you have peace of mind and to know that the work has been completed to a high standard with a guarantee.
Compare uPVC window installers to find a reliable professional. Use the online quote service to request multiple quotes in one go from different uPVC window installers.