French windows are an elegant choice that add a stylish and luxurious look to your home. Do you want low maintenance windows that also provide great insulation? Then uPVC French windows would be your perfect match.
What is a French window?
French windows are designed to be full length and have two large panels of glass; however, it is common for the glass to be separated into smaller glass panels. These are called Georgian bar french windows.
They are very elegant and sophisticated in design and work well in many homes, but especially in homes with a more classic style, or country or seaside homes that can make the most of the beautiful views.
French windows are also available with sidelights, to light up your home.
What are uPVC French casement windows?
When you choose to have French casement windows, there are a variety of materials to choose from for the window frames.
One of the most popular materials is uPVC. uPVC (Unplasticised Polyvinyl Chloride) is a durable and strong material that has very low thermal conductivity, so it is extremely energy efficient. And maybe the most important part is the price. uPVC windows are cheaper than aluminum or wood.
uPVC frames are safe and secure thanks to their multiple locking systems and fire resistant properties. uPVC French windows are available as supply only or as supply and fit deal.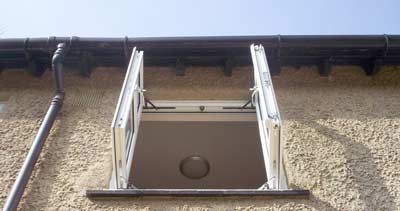 Source photo: windsorwindows.net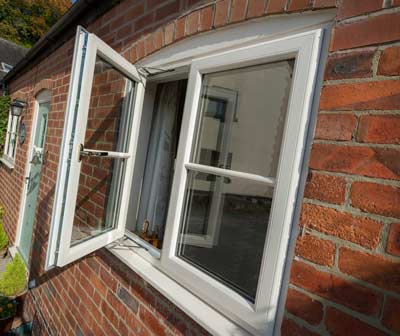 Source photo: synergy-windows.co.uk
Coloured and wood effect uPVC French pane windows
One of the great things about choosing uPVC French windows is the variety of colours and wood effects available. The colour you choose will depend on your own personal taste and the style of your home, or you may choose a wood effect if that better suits the aesthetic of your home.
The most popular colours for uPVC French windows are black, grey, cream and green.
Source photo: abbeywindows.co.uk
Wood Effect
You can also choose to have a wood effect uPVC, that matches the type of wood finish you prefer, such as Oak, Mahogany or Rosewood.
A foil coating is added to the frame to mirror the look of wood, without the maintenance.
Are you interested in beautiful French windows? Get free uPVC windows quotes now.
What are the benefits of French windows?
There are many advantages to installing French windows in your home including:
French windows let lots of light into your home.
They help to make a small room feel more spacious.
uPVC (French) windows will reduce your household bills thanks to their excellent energy efficiency.
The way the windows open provide a great emergency exit escape.
They are easy to clean.
French windows can be installed in bay windows.
French casement windows vs regular casement Windows
What is a casement window?
Casement windows open differently to most other windows. They open outwards using a mechanical crank that is either manual or automatic.
Casement windows are rectangular and have two hinges along the side, and are pushed open or pulled closed using the handle which operates the mechanism. Each window opens separately with the centre pillar staying in place.
What are the differences?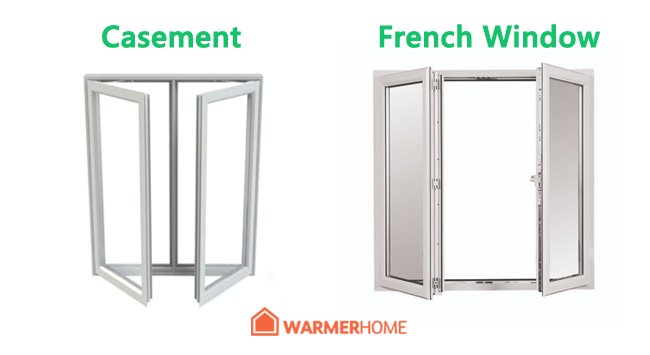 French casement windows vs french doors
French windows are often confused with French doors, as they use the same mechanism and are used in a very similar way.
They can both be configured to open inwards or outwards, although inwards is the most common.
The main difference is simply how they are used. French doors are often used inside to create a stylish separation between rooms, like in the living room. French windows are mainly used as an extra entrance point, or to open up into a garden or balcony.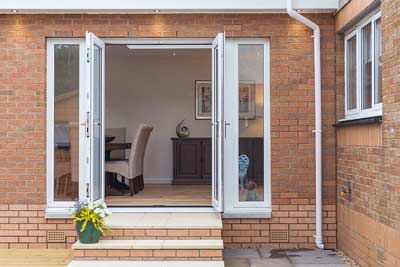 Source photo: srjwindows.com
Compare uPVC Window Installers
No-obligation - Free of charge
Choose energy efficient glazing
The glazing in your French windows is very important and you should think about which glazing is the best for you carefully. These are the glazing options available:
Double glazing: This type of glazing is very popular and energy efficient. It controls the temperature inside your home well, meaning you will spend less on heating and cooling your home.
Triple glazing: Triple glazing insulates your property very efficiently and is great for reducing the amount of noise entering a property, but is more expensive than double glazing.
How much do French windows cost?
The total cost of your French windows will depend on many factors. A window installer will be able to give you an exact quotation, but here are the things you need to take into consideration.
Delivery costs.
The size of your windows.
The uPVC manufacturer you choose.
The finish you choose.
The cost of labour and parts.
The glazing you choose.
You'll find the answers to all your burning questions in the overview below.
The costs include VAT, installation and uPVC French windows with insulated double-glazing.
uPVC French windows
1200x1200 mm
Avg. costs
Installation costs
£280
Standard white
£310
Colour or Wood effect outside
White inside
£390
Colour or Wood effect outside
and Colour or Wood effect inside
£430
Get quotes from uPVC window installers near you
If you've set your heart on stylish French uPVC windows, the next step is to find a reliable uPVC window installer.
Use the free WarmerInside quotation service to compare (local) uPVC window installers.