If you have made the decision to replace your windows, it's important to have as much information as possible.
It's likely that your current windows aren't performing at their best, so upgrading to aluminium or uPVC windows could be the answer.
Both materials have different characteristics and benefits. But what are the similarities and the differences between uPVC and aluminium?
uPVC windows
uPVC stands for Unplasticised Polyvinyl Chloride and it's the material you're most likely to see framing the windows of homes across the UK.
It's a durable, very strong, and relatively cheap material that is known for its energy efficiency. It has very low thermal conductivity which stops heat escaping easily.
It is also fire resistant and recyclable, making it a great choice for homeowners looking to replace their windows.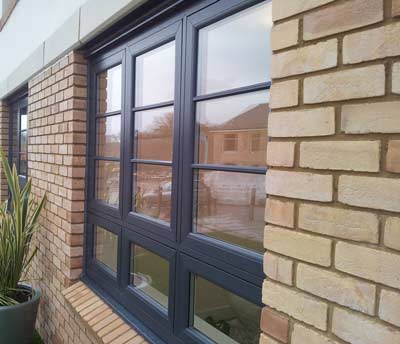 Benefits?
uPVC windows are a popular choice for homeowners as they have many benefits including:
uPVC is very energy efficient, so you will save money on your household bills.
They are low maintenance and easy to clean.
They keep your home warm in the winter and cool in the summer.
They waste less heat, so they are better for the environment.
Various colours and finishes are available, including wood effect.
Interest in windows that insulate well? Opt for uPVC windows. Get your free window quotes now.
Aluminium windows
Aluminium is another option available, when choosing the material you would like for your window frames. They are a stylish choice for many types of home and as aluminium is a very durable material.
It is made from ore, which is readily available, but the production of aluminium is not environmentally friendly and results in the production of multiple pollutants.
If you have large windows, or windows that are a non-standard design, a professional window installer will most likely recommend aluminium as it can be moulded to almost any design.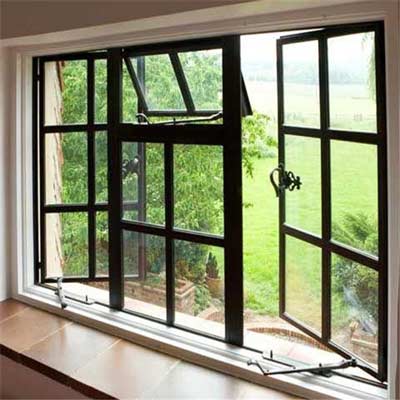 Benefits?
The mass production of uPVC has meant the popularity of aluminium windows has decreased, but there are benefits to this style of window:
Aluminium is extremely durable, making them very cost effective.
They are very strong.
They are very secure.
If your home is a more bespoke, aluminium is more suited to more complex window designs.
U-Values of windows
When researching your new windows, you may have come across the U-Value, but what does that mean? The U-value measures how effective a window is as an insulator of heat.
The lower the U-values, the more energy efficient the window is and the better it insulates.
The Uw- value is particularly important when choosing the material for your frames, as it shows the insulation quality without glazing.
Average U-value of uPVC windows
The numbers are calculated with a mathematical formula, but as a general guide, the average U-value of current uPVC windows is between 1.8 – 0.6
Average U-value of aluminium windows
For aluminium windows it is around 1.5 – 0.9.
Each manufacturer is different, so check with your local window installer to get more detailed advice.
What are the similarities between uPVC and aluminium windows?
The similarities between uPVC and aluminium windows are:
Recycled: They can both be recycled multiple times.
Security: Both aluminium and uPVC windows are very secure.
Colour choices: Both have many different colours to choose from, although aluminium has more options.
Maintenance: Aluminium and uPVC are both low maintenance.
Weatherproof: Both are weather resistant.
Glazing: Both aluminium and uPVC can hold double and triple glazing.
Compare uPVC Window Installers
No-obligation - Free of charge
What are the differences?
The most notable differences are:
Durability: Aluminium will last longer than uPVC.
Discolouration: uPVC can discolour when exposed to intense sunlight, aluminium will not.
Complexity: Aluminium is suited to more complex homes, as it does not need any supporting structures or reinforcement.
Type of building: Aluminium windows are more popular in commercial properties.
Frame: uPVC has thicker frames than aluminium.
Noise: uPVC has better soundproofing.
Strong: As aluminium is so strong, it can handle larger and heavier glass panels.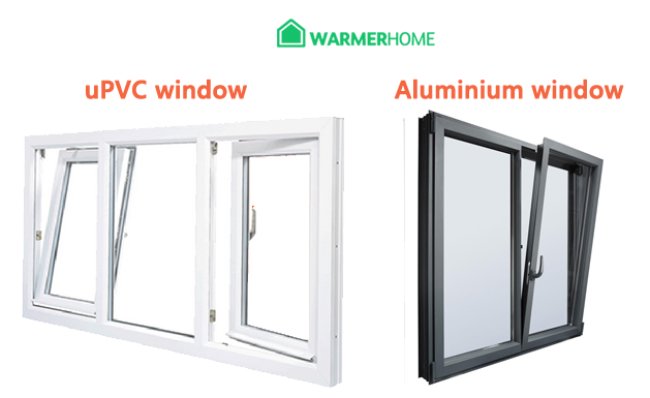 What are the differences in price between uPVC and aluminium windows?
The price of replacing your windows will be a big factor when making your decisions on style, material and glazing.
The prices differ between uPVC and aluminium windows. You'll often find that aluminium is around 30% more expensive than uPVC.
Price aluminium window (1 window, double glazing, without installation): £600
Price uPVC window (1 window, double glazing, without installation): £440
Which is better: aluminium or uPVC windows?
Below we've listed a helpful summary of both uPVC and aluminium window characteristics to give you the full picture.
1. Which is the cheapest to purchase?
uPVC windows are less expensive than aluminium windows. They're around 30% cheaper.
Replace your current windows with uPVC windows. Get your free quotes from uPVC window installers now.
2. Which is the most durable?
Aluminium windows have a longer lifespan but need a little more maintenance along the way.
3. Which is the best insulator?
uPVC is overall the better insulator. Especially if you fit the new generation uPVC windows with more internal chambers; they have a low U-value, which means the heat conductivity is lower. Aluminum frames can be insulated, but it's more expensive to accomplish the same U-value.
The glazing is important when considering the insulation value. Double-glazing insulates well, but triple-glazing insulates even better in both uPVC and aluminium windows.
4. Which is the cheapest to install?
uPVC are cheaper to install. The labour costs to install a uPVC window is, on average, £110 per window.
For aluminium windows the labour cost is around £150 per window. So, uPVC costs considerably less to install.
5. Which cancels more noise?
uPVC offers the best noise-reduction. However, the glazing is also really important when it comes to noise-reduction. Triple-glazing is more sound-resistant than a double-glazing unit. So, if you want to install aluminium windows, choose triple-glazing to reduce outside noises effectively.
How to get quotes from window installers near me?
We recommend that you request quotes from various (local) uPVC window installers to make sure you get the best price comparison. Comparing prices and understanding what's on offer will often save you money in the long run.
Get your free and no-obligation window quotes now.