uPVC windows are the most popular choice, thanks to their versatility and value for money.
The wide variety of colours and window styles means that there is a uPVC coloured window design to suit everyone's taste. You do not have to settle for white.
What are popular colours for uPVC windows?
There are many colours available for uPVC window frames, and the colour you choose will depend on your own personal taste and the look you're trying to achieve for your home.
Most people choose to have 'dual colour' windows, which have different coloured frames on the inside, so they are more in keeping with the interior design of your home.
Some of the most popular colours are:
Grey: This colour is very on trend, and gives a modern, yet sophisticated look. Dark grey as well as light grey is a great colour for uPVC windows.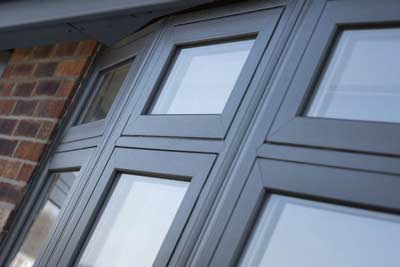 Source photo: heritagewindowcollection.co.uk/2019/09/18/grey-upvc-windows/
Green: The colour known as 'Chartwell green' looks great on cottages and village homes.
Source photo: securahome.co.uk/window/heritage-colours/
Black: This colour is classic and matches almost every home.
Source photo: climatec-hi.co.uk/windows/bay-bow/black-upvc-bay-window
Brown: Brown is a popular colour thanks to its traditional look and comes in many shades such as Oak, Mahogany and Rosewood. A woodgrain effect foil on the uPVC windows is possible.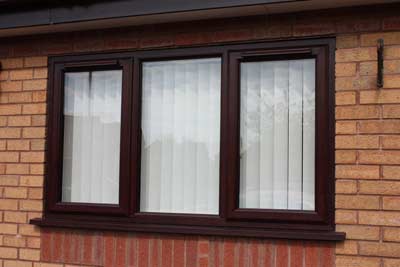 Source photo: notarowindows.com
Cream: Cream adds a light and elegant touch, but can be harder to keep clean. Lighter coloured frames appear 'slimmer' than darker coloured windows.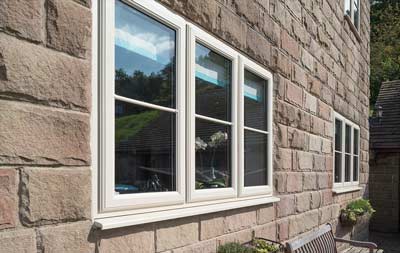 Source photo: eurocell.ie/homeowners/upvc-windows/coloured-windows
Are you looking to replace your tired windows for new coloured ones? Ask for advice from local window installers. Get your free window quotes here.
How do they add colour to UPVC windows?
There are two types of finishes used to achieve a vibrant and long lasting colour on uPVC window frames – foil finishes and spray-coloured finishes, but which one is best?
Foil finishes: Coloured foil is applied to the frame using heat, bonding it to the surface and matching the natural texture of the frame. You can also choose a smooth, matte or gloss finish.
This process creates a laminate finish that makes the colour permanent, so it is very unlikely to peel or crack. Therefore, this method will give you windows that are both durable and good value for money.
Spray-paint finishes: During manufacturing, the frame is spray painted by hand with multiple layers of paint. Whilst you don't get the natural timber effect with spray paint, they are often the cheaper option.
The process then uses heating or bonding to seal the paint – of the two, bonding is the more expensive process, but will last longer.
Choosing the right style of window
If you're thinking of upgrading your current windows, choosing the right style is important. This will depend on your preference, budget and current window design.
Your local uPVC window installer will be able to give you further advice on which style is best for you.
Tilt and turn windows: Tilt and turn windows are practical and versatile, as they can be opened in two ways – either fully, or tilted on a hinge mechanism. The tilting feature also makes them easier to clean and they offer great variety when it comes to ventilation.
Fixed windows: These windows do not open, so are great for skylights, areas of your home that are already well ventilated or rooms where you want to add more natural light.
Bay windows: Bay windows consist of three or more window panels and are a protruding construction from your home. The panels are placed at a certain angle, which gives bay windows their distinct character.
Sash windows: A sash window is made from moveable panels that have two frames, both of which can slide vertically. There are two cords that allow the movement, that are counterbalanced by weights. These windows also come in a variety of styles, such as Georgian or Victorian.
Casement windows: A casement window has a single sash and is attached to its frame by one or more hinges at the side, that allows them to open outwards to the left or right.
Awning windows: Awning windows are similar to casement windows as they have a single sash, however they have hinges at the top of the frame, and open with an awning-like effect.
They are popular as they can be opened, even in the rain.
Replace your old timber or uPVC windows. Get your no obligation window quotes now.
Can I paint my uPVC windows?
Yes, it possible.
But, there is a but…
If you're thinking about painting your current uPVC windows, there are a few things to consider beforehand:
Check with your manufacturer, as painting them yourself may void the warranty.
Check with a professional to ensure you use the correct paint from a good quality brand.
Choose a colour that will work well with your current aesthetic.
If you don't have the skills, consider hiring a professional to paint them for you.
If your windows are old and looking a little worse for wear, it may be more cost effective to replace them instead.
So, it is possible to give your existing uPVC windows a new coating. But you have to consider the insulation properties of your existing windows. Are these up to scratch? New windows have better insulation values, which will save you money. Get your free window quotes today.
Replacing your uPVC Windows
It may be a good idea to consider replacing your current windows with coloured uPVC, instead of painting them. There are many benefits to replacing them including:
Hiring a professional to replace your windows ensures you can choose the look that's right for you, meaning you can enjoy your stunning new coloured uPVC windows for many years to come.
High quality uPVC windows are a good investment and add value to your home.
The new generation painted uPVC windows are very energy efficient, so you will be saving money on your energy bills.
Choosing coloured uPVC windows with new energy efficient technology, helps the environment and will lower your carbon footprint.
How much do coloured uPVC windows cost?
Coloured uPVC windows tend to be a bit more expensive than the standard white ones. But what are the average prices and installation costs?
You find the answers in the overview below. These costs include installation, VAT and uPVC windows with insulated double glazing.

Coloured uPVC windows
Average cost
Bay windows (3 window panels)
(W 100x H 160 cm per panel)
£1,800
Sash window
(W 61x H 91.5 cm)
£625
Casement window
(W 96.5 x H 198 cm)
£440
Tilt and turn window
(W 80 x H 100 cm)
£625
Fixed window
(W 120 x H 120 cm)
£700
I want quotes from uPVC window installers near me
Coloured uPVC windows will make a great addition to your home, save you money on household bills and increase the value of your home.
So, if you're looking to upgrade your windows to coloured uPVC, get a quote from a uPVC window installers now.