If your windows are old or damaged, you could be spending more on your household bills than you need to.
By upgrading to fixed uPVC windows, you will enjoy all of the energy efficient benefits of uPVC.
You will also save money on installation, as fixed pane windows are also the most affordable type of uPVC windows.
What are fixed windows?
Essentially, fixed windows cannot be opened or closed. They are a fixed pane of glass within a frame that is secured in place and does not have any moving parts.
Fixed windows are simply a way to let more natural light into your home, make a space look more open, or to enjoy the view.
This type of window is sometimes placed above doors or windows to increase light or enhance the look of the windows. Because of the simple design, this does make them one of the most affordable window styles.
What are uPVC fixed windows?
uPVC stands for Unplasticised Polyvinyl Chloride and it is one of the most popular materials used in window frame manufacturing. uPVC is extraordinarily strong making the window frames safe and secure.
It also has low thermal conductivity, so uPVC windows are energy efficient. It is resilient and durable, so uPVC is low maintenance and will last for years to come.
Replace your old windows with energy saving uPVC windows. Get free uPVC window quotes now.
Types of fixed uPVC windows
There is a range of fixed uPVC window styles to choose from, so you can install the design that best suits your needs and preferences.
1. Regular fixed uPVC windows
This style is simply a flat window pane that cannot be opened. This type of fixed window is sometimes included as part of larger window styles, such as awning windows or French windows to frame them or add unique designs.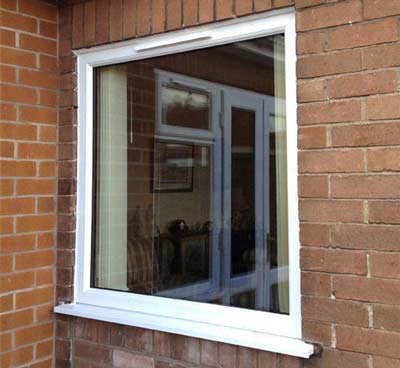 Fixed bay uPVC windows
Bay windows consist of 3 or more panels that are joined together at an angle and protrude outwards from your home. A roof is also installed over the top of the window, to strengthen the window and give them a professional finish.
Due to the size, they add more space inside the room as well as letting in lots of natural light.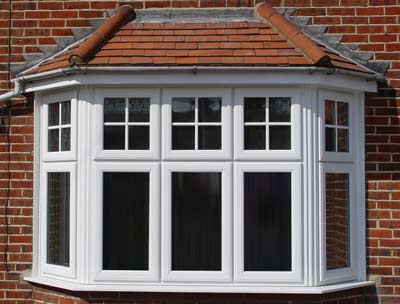 Source photo: opus-windows.co.uk
Fixed bow uPVC windows
uPVC Bow windows are similar to bay windows, but there are some differences. Bow windows are notable for their arched design, and generally have 4 or 5 panels, where bay windows traditionally have 3.
The curved design is more unique and stylish, but will create less room inside than a bay window.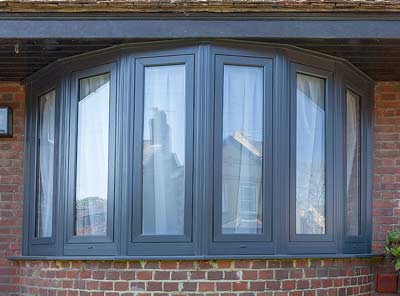 Source photo: idealwindowsolutions.co.uk
What are the benefits of fixed uPVC windows
Choosing to have fixed uPVC windows installed in your home comes with many benefits including:
They cannot be opened, meaning they are very secure.
They are very energy efficient as they have no space for heat to escape.
Fixed uPVC windows can be designed into many different shapes and styles, such as circular, eclipse or cathedral.
They are suitable for all styles of home.
A fixed uPVC window can be added above or around opening windows to add to the aesthetics and let more natural light in.
They are low maintenance and easy to clean.
They are airtight, making them more soundproof than opening windows.
You will save money on your energy bills.
Compare uPVC Window Installers
No-obligation - Free of charge
Choose energy efficient glazing
You will need to choose the type of glazing you want for your windows. Your decision will impact the overall cost and energy efficiency of your new windows, so consider your options carefully. You will be able to choose from a variety of glazing options, here are the most common options.
Double glazing: Double glazing is a popular choice and allows your home to heat up naturally using sunlight. Double glazing will make the energy efficiency of fixed uPVC widows even more effective.
Triple glazing: Triple glazing insulates your property extremely efficiently, and is the best choice if you want to improve the soundproofing in your home. However, triple glazing is also the most expensive glazing option.
Coloured and wood effect uPVC windows
uPVC is very versatile and can be finished in almost any colour. This means you can choose the colour of the uPVC windows that best suits your home, or the colour you prefer.
You can also choose uPVC windows with a wood effect finish if you prefer the look this creates. Some of the most common colour choices are black, green, grey, cream and different types of wood.
How much do uPVC fixed windows cost?
The overall cost of your windows will depend on the size, style and glazing you choose. Although there is an initial cost, installing new uPVC windows will save you money on your household bills and could increase the value of your home.
To give you a general idea, the table below details the average costs of triple-glazed uPVC windows including labour costs, the uPVC fixed windows and the VAT so you get a better picture.
uPVC fixed window
installation costs
£380
Fixed uPVC with double glazing
(W 120 x H 120 cm)
Standard white
£230
Coloured / Wood effect
£320
Fixed uPVC window with triple glazing
(W 120 x H 120 cm)
Standard white
£320
Coloured / Wood effect
£425
Get quotes from uPVC window installers near you
Every home is different, so you'll need to seek advice from uPVC window installers before you go ahead.
Get free uPVC window quotes now.