When you think of cottage windows, you may think of an idyllic cottage in the countryside. But uPVC cottage windows can be installed in a variety of homes, as they create a unique balance of practicality and style.
If you are looking to upgrade your cottage windows, but are concerned about maintaining the traditional charm of your home, uPVC cottage windows are the perfect solution.
What are cottage pane windows?
As the name suggests, they were originally designed for traditional cottages, but look great on modern properties too.
What makes them different is they have a series of bars across the windows that create multiple square panes, that creates their unique look.
Replacing your current windows with uPVC will preserve the traditional elegance and aesthetic, whilst having the benefits of modern uPVC.
What are uPVC cottage style windows?
uPVC is very strong and durable, meaning it is a very popular choice when it comes to window frames.
uPVC stands for Unplasticised Polyvinyl Chloride and it is a energy efficient material that is easy to clean, fire resistant and cost effective.
Windows made from uPVC are very secure as they have multiple locking points and come in a variety of colours and finishes to match your home perfectly.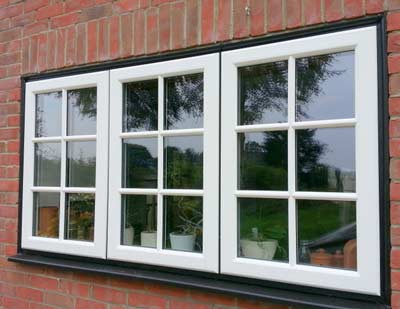 Source photo: kjmgroup.co.uk
Coloured and wood effect uPVC cottage style windows
Another benefit of uPVC is that it can be finished in almost any colour, so you can match your windows to the aesthetic of your home and your personal colour preference. Some of the most popular colours are:
Grey;
Black;
Cream white, or other cream colours;
Olive green.
Wood Effect
You can also choose to have a woodgrain effect uPVC windows, that matches the type of wood finish you prefer. This is achieved by placing a foil coating on the frame to mirror the look of wood. So you can have the elegant look of wood, but with the practicality of uPVC.
Receive quotes from uPVC window installers. Get your free quotes here.
Types of uPVC cottage style windows
Cottage windows are available in different varieties, so you can choose the style that best suits your preference and needs. You can choose between the below configurations for your cottage windows:
uPVC casement windows
Cottage windows can be designed as uPVC casement windows, which is a common and popular style. They are available in single, double, or triple frames. They open outwards using a hinge located on the side of the frame and each window can be opened individually. The main advantages of casement windows are:
uPVC cottage casement windows are easier to open.
You can easily control the ventilation in your home.
They are easy to clean and maintain.
The uPVC cottage casement windows lock into place when they are open, so won't be damaged in the wind.
uPVC Sash windows
Sash windows consist of two panes that slide over each other. You can choose between single hung, which has one fixed window and one sliding window, or double hung sash windows that have two sliding window parts. The key benefits of uPVC sash windows are:
They come in different styles such as Edwardian and Victorian.
They are a unique design that will add character to your home.
They are low maintenance and functional.
What are the benefits of uPVC cottage windows?
Upgrading or replacing your current windows with uPVC cottage windows means you will be able to take advantage of their many benefits including:
They are very energy efficient.
They are on average cheaper than wood or aluminium.
New windows are attractive to potential buyers.
Add style and character to your home.
As they do not have large panes of glass, they are more secure.
If you have an older home, they will maintain the traditional look.
You will save money on your household bills.
Compare uPVC Window Installers
No-obligation - Free of charge
Choose energy efficient glazing in your cottage windows
The type of glazing you choose is just as important as the style, as it will determine the level of energy efficiency and overall cost of your windows.
Take a look at the options below to help you decide which glazing would be best for you:
Double glazing: Double glazing is a popular choice and allows your home to heat up naturally using sunlight. It keeps your home cool during the summer and warm during the winter
Triple glazing: Triple glazing insulates your property very efficiently and is best for soundproofing, but it is also the most expensive.
How much do uPVC cottage windows cost?
Installing new uPVC windows will save you money on your household bills, as they are very energy efficient. However you will need to consider the overall costs before you benefit from the savings long term. But what are the costs?
This will depend on the size of your windows, the glazing you choose, and the design of your windows.
The table below will give you an idea of the average costs of uPVC cottage windows. These average costs include uPVC cottage windows with insulated double/triple glazing and VAT.

uPVC cottage windows
Installation costs per
uPVC cottage window
£400
Cottage uPVC with double glazing
(H 120 x W120 cm)
Standard white
£450
Coloured / Wood effect
£580
Cottage uPVC with triple glazing
(H 120 x W120 cm)
Standard white
£608
Coloured / Wood effect
£780
Get quotes from uPVC window installers
If you've set your heart on beautiful uPVC cottage windows, the next step is to find an installer that you trust.
Use the free WarmerInside quotation service to compare uPVC window installers.