A carpet feels warmer under your feet than wooden or laminate flooring. But to make it even more pleasant, you can combine carpet floor coverings with underfloor heating.
But is underfloor heating under carpet flooring possible?
Yes, it is. But you have to take a number of factors into account.
Why choose underfloor heating under your carpet flooring?
A carpet already feels warm and soft. That's why many people initially don't think about having floor heating installed underneath.
Underfloor heating under your carpet provides even more warmth and comfort during the really cold days meaning that you can still walk around with bare feet during the winter.
Can you have underfloor heating with a carpet?
If you would like to have floor heating under your carpet, it is important that you first look carefully at what is possible and what isn't.
Not every type of carpet is suitable for floor heating.
Carpet is already an insulator. Of course, it is not the intention that the carpet retains so much heat causing the room to not heat up. When choosing the right carpet for floor heating you must take the following aspects into account:
1. Carpet must be anti-static
Static electricity is generated by friction. If you walk on a carpet, there is also friction which causes you to be electrostatically charged. You notice this when, for example, you touch a door handle.
You then lose the electrical charge, which you often notice in the way of a shock.
Today's carpets are often 'anti-static'. This minimizes the chance of electrostatic shocks, because the underfloor heating makes the carpet warm and dry.
For this reason, it is important that the carpet itself is anti-static. Such carpets are indicated with an 'anti-static' symbol on the packaging.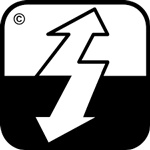 You can read more about heat resistance under the heading 'Heat resistance of carpets'.
2. Underlay
Usually, the advice applies that no underlay should be laid under the carpet if you're planning to heat through the floor. This underlay would block the heat too much. Underfloor heating can best be combined with a fully glued carpet floor.
3. Backing of the carpet
A carpet backing is the layer at the bottom of the carpet which lies on the underlay. If the carpet has a closed backing, this will block the heat. This causes heat loss and the floor heating will therefore also yield less efficiency.
Knotted and woven carpets do not have a closed back. The heat can pass through it, which makes these carpets suitable for floor heating.
4. High pile carpet and floor heating
High pile carpets are often less suitable for floor heating. On the label of the high pile carpet you can find out whether it's suitable to lay with floor heating.
Heat resistance of carpets
The heat resistance indicates how much heat, or energy in watts, must be used to raise a floor surface of 1 m², 1 degree in temperature. The heat resistance is also called Rc value.
The carpet (including underlay) may have a maximum heat resistance of 0.15 m²K/W. This is if you use underfloor heating as your main heating source. With additional heating, the maximum resistance may be 0.18 m²K/W.
If these values ​​are higher, too much energy will be needed to heat the room. Carpet has an average high heat resistance, of 0.10 m²K/W.
Rugs and carpets retain heat better than other floors. Laminate and tile flooring are most suitable in combination with underfloor heating and have a heat resistance which is well below 0.10 m²K/W.
Do you want energy efficient or responsive underfloor heating? Get free quotes from underfloor heating installers.
Underfloor heating types
There are different floor heating systems, each with its own benefits and disadvantages.
Electric underfloor heating under carpet
Electric underfloor heating is usually installed directly under the floor. It is relatively cheaper than water underfloor heating to install. The benefit of electric floor heating is that the floor heats up quickly.
The disadvantage is that the energy consumption is higher than water underfloor heating.
Water underfloor heating
With water underfloor heating, water circulates through tubing which heats the floor. This type of floor heating must be installed by a floor heating installer. Request water underfloor quotes today.
Although water floor heating is more expensive to install, this floor heating system is much more energy efficient.
Both electric and water underfloor heating are suitable for use under carpet flooring.
Electric underfloor heating mats under a rug
It is also possible to heat an individual rug with electric underfloor heating. This is possible with a so-called speed heat infrared heating mat.
These are heating mats which are especially suitable for local and temporary heating.
Think about a nice warm rug to sit in front of the telly, a heated rug to play on in the nursery or comfortable floor heating in the caravan.
It is a ready-made carpet heating that you simply place under the loose carpet. You plug in the power cord, wait a while, and then; a wonderfully warm rug.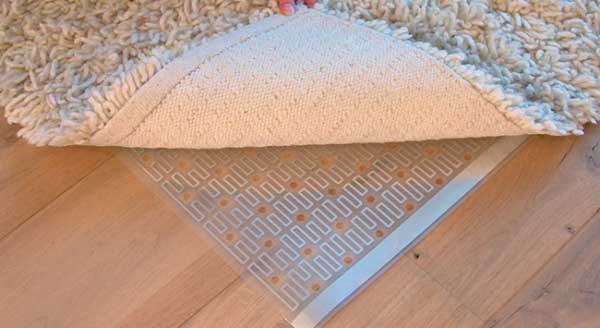 Underfloor heating to cool your carpet
You can, besides heating, also cool your flooring with underfloor heating. This is only possible with water floor heating.
By filling the underfloor heating with water that is just a bit colder than the room temperature, the space will seem cooler.
Request quotes from underfloor heating installers
Create a warmer home by installing underfloor heating under your carpet? Request free quotes from several underfloor heating installers so you can make a good price and quality comparison.