Do you want a warmer floor? Then underfloor heating is the solution.
But is underfloor heating possible in combination with laminate flooring?
Can you combine laminate with underfloor heating?
Most laminate floorings are suitable in combination with underfloor heating. The following aspects are important to determine whether the laminate of your choice is suitable for underfloor heating:
Thermal resistance: The heat resistance of the laminate and the subfloor is very important. With a high heat resistance, the floor (including the subfloor) blocks too much heat, causing the heating to be less efficient.
More information about heat resistance can be found under the heading: 'Thermal resistance of laminate'.
Floorboards: Although it is not an absolute necessity, it is recommended to opt for somewhat narrower laminate boards. Wider laminate boards tend to buckle as a result of temperature variations due to underfloor heating.
Icon: Usually it is stated on the package whether the relevant type is suitable for underfloor heating. Search for the logo below on the packaging to see if the flooring that you've chosen is suitable.
Get underfloor heating under your laminate flooring. Request quotes from underfloor heating installers now.
Thermal resistance of laminate
The heat resistance indicates how much heat, or energy in Watts, must be used to raise a floor of 1 m², 1 degree in temperature. This is also referred to as the R value.
Together this may not exceed 0.15 m²K/W if you use underfloor heating as the main heat source. As an additional heater, this is a maximum of 0.18 m²K/W. Read more about additional heating and main heating here.
Laminate has an average heat resistance of 0.09 m²K/W (including subfloor). This low R-value makes laminate suitable for underfloor heating.
Underlay for laminate on underfloor heating
When choosing the right underlay for laminate under underfloor heating, there are two things that you have to take into account:
The thermal resistance of the heat resistance together with the thermal resistance of the laminate may not exceed 0.15 m²K/W. It is also important that when the subfloor is placed, the temperature of the floor in which the underfloor heating is installed does not exceed 28 ºC.
For that reason, the underfloor heating must be switched off for about three days before the floor is laid, so that the floor has sufficient time to cool down.
After the laminate floor has been laid, the temperature of the floor heating must be increased by only a few degrees so the floor can get used to being heated gradually.
Heat resistance for laminate suitable for underfloor heating.
You can use both electric and water under floor heating with laminate flooring.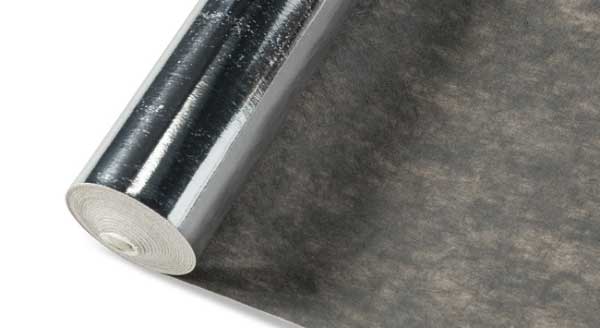 Electric underfloor heating
There are two types of electric under floor heating:
Cables: This type is suitable for rooms with an odd shape as they are able to bend to reach all corners of the room.
Mats: These mats heat your laminate flooring with heating elements and are suitable for averagely shaped rooms.
Water underfloor heating
With water underfloor heating, tubes are situated beneath the floor, where warm water flows through.
It is recommended that warm water underfloor heating is installed by a underfloor heating installers. The installation is more expensive but is less costly to run overall.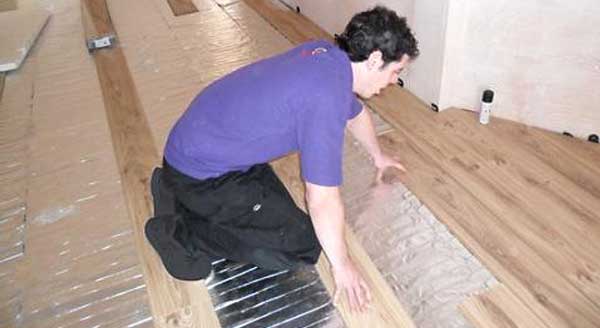 Tips for underfloor heating under laminate
Do not set the floor heating thermostat too high: Laminate floorings that are suitable for underfloor heating are usually quite thin. This means that they can buckle when the temperature is too high.
No big temperature fluctuations: Make sure that the temperature does not fluctuate too much during the day. This too can cause the laminate to buckle.
Do not put thick carpets on the floor: A carpet that is too thick will retain the heat underneath and it will take longer to heat the room as a result.
Are you interested in underfloor heating under laminate, tile or other flooring? Get your free underfloor heating quotes today.
Do you want laminate or PVC flooring?
Do you want laminate flooring, or do you like to broaden your horizon and choose tile or carpet flooring?
Would you also like to use the underfloor heating as main heating, so there are no more radiators alongside?
Then a PVC floor can also be a suitable alternative.
Compared to laminate, PVC offers the following benefits:
PVC flooring is thinner: This means that this floor heats up faster, so the heat loss is minimal.
You'll also notice this on your energy bill.
Radiators are not necessary: ​​With PVC you can manage with underfloor heating alone. With traditional laminate, radiators are also required. This is because laminate conducts the heat less than PVC laminate.
A PVC flooring only has an Rc value of 0.07 m²K / W.
No subfloor required: You can stick glued PVC directly onto an even surface. Traditional laminate is much less able to withstand heat differences, which means that a subfloor is necessary. Remember that the construction of a subfloor brings additional costs.
A subfloor also retains a lot of heat, which means more heat loss and more heating required.
Receive quotes from underfloor heating installers
Would you also like to have underfloor heating under your laminate flooring? Then request free quotes from several underfloor heating installers.