If you're having a new boiler fitted or need to relocate it, you'll need to consider the best space for you.
The bathroom seems like the ideal location to keep your boiler away from living space and give you quick access to hot water where you need it most.
But is a bathroom a safe space to install a boiler? Read on to find out more.
Should you install a boiler in the bathroom?
Installing a boiler in a bathroom is safe, practical, and a great option for lots of homeowners.
It is common for a combi boiler to be installed inside a bathroom, as this system is most suitable. Having your boiler in the bathroom means the installer will have easy access to the waste pipe and existing pipework, so the process should be fairly straight forward.
Here are the main benefits of installing your boiler in the bathroom:
If your bathroom is big enough, you can place your boiler in a cupboard, so the décor is not affected.
The close proximity to taps and baths/showers means hot water is delivered quickly.
Towels can be stored in the boiler cupboard to keep them warm and dry.
It won't impede on the living space inside your home.
If you are considering installing your boiler in a bathroom, here are a few things to consider:
Your boiler will need to be located on an outside wall, to support the weight.
The pipes will need to run outside.
The boiler must be fitted away from doors and windows, to allow space for the flue and pipework.
There are additional regulations to follow due to higher moisture and steam levels.
The boiler must not be reachable from the shower or bath.
The electrical spur must be located outside of the bathroom.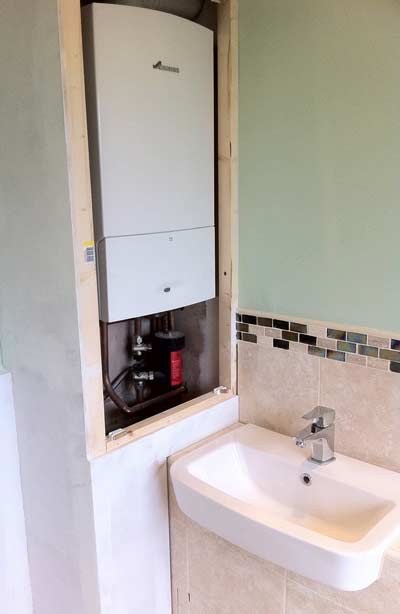 Compare Boiler Installers
No-obligation - Free of charge
What are bathrooms zones?
When installing a boiler in a bathroom, there are extra regulations regarding the electrics.
It can make it difficult to find a suitable place if your bathroom is small, or an unconventional shape. To make sure your boiler is in the correct place, it must be installed in the correct zone. Bathroom zones have been established to ensure safety and adherence to strict regulations.
Here are the zones:
Zone 0: The area inside a bathtub, sink, or shower
Zone 1: The area directly above zone 0, up to 2.25m
Zone 2: The 0.6m area around the bath, sink or shower. Up to 2.25m height.
Zone 3:  This area is considered the 'safe zone' and is the area outside zones 1 and 2, where there is little risk of water streams.
Zone 3 is the area where it is safe to install your boiler. If your bathroom is small, you may not be able to adhere to the zone guidelines.
You also may not have space for the required air circulation and space for servicing, meaning a boiler installation may not be possible.
Get a boiler safely installed in your bathroom. Ask a Gas Safety boiler installer for advice. Receive free boiler quotes now.
Hiding your boiler in a cupboard
Boilers aren't exactly a piece of art in your home, but they are essential to keeping our home running properly. Having a boiler on show can lower the value of your home, so how can you hide it?
Build a cupboard around your boiler that matches the current design of the room. Be sure to check the space regulations regarding air flow before you do.
If you have the budget to install a larger cupboard, add shelves to keep towels on, which is particularly useful in a bathroom.
What other rooms are suitable for a boiler?
You may find that after consulting with a Gas Safe installer, you may not be able to install your boiler in the bathroom, so where else in your home is suitable ?
Garage: Installing your boiler in the garage provides easy access and no use of living space. But pipes may be visible on concrete flooring or walls.
Bedroom: The bedroom is a safe space to install a boiler. However it will take up storage space and you should consider the noise if you are a light sleeper.
Loft: The loft can be a location for a boiler. It's out of the way and there is plenty of space for it. However, you will need to install flooring, ladder access, and adequate lighting.
Kitchen: Having a boiler in the kitchen will provide easy access for engineers, and can be tucked away in a cupboard. However, it will take up valuable storage space.
Get quotes from boiler installers
The next step is to get in touch with boiler installers, who will give you a quote to complete the work safely and professionally.
Use the free quotation service below to find the right (Gas Safety) boiler installer now.