The loft is a very popular place for a boiler. It will not take up any living space inside your home, and keeps the boiler out of sight.
This is a huge priority for most homeowners, so moving a boiler into the loft is ideal, however it may not be as easy as you hoped…
Are all boilers suitable for a loft installation?
Before you go ahead with an installation, you need to be sure that the boiler you have is suitable. Although many boilers are suitable, a professional boiler installer will be able to help and let you know which boilers are safe for loft installations.
For example, a regular boiler is unsuitable for a loft installation, as they use gravity to feed water from the tanks to the boiler, which is not possible if the tank and boiler are on the same level.
A combi boiler is more suited to installation within a loft environment. Ask professional boiler installers for advice and request your free boiler quotes today.
What are the benefits of installing a boiler in the loft?
These are the pros of choosing a boiler in the loft:
The boiler is out of sight and will not affect the décor of your home.
You will have more living and storage space in your home.
You will not be disturbed by the noise from the boiler.
The pipework for the boiler will be hidden.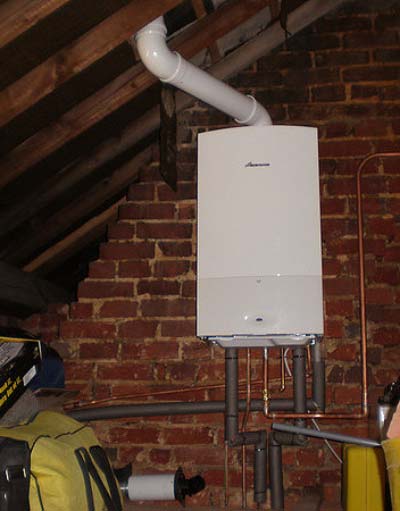 Opt for an energy efficient boiler in the loft or other space. Get free boiler quotes now.
What are the disadvantages?
The cons are:
Access to the boiler can be limited.
Loft storage space is reduced.
If your boiler leaks, the water will run downwards and could damage your ceilings and floors.
Your loft may need additional work to make the space suitable such as floor boards, lighting, and a ladder for easy access.
The loft can be susceptible to extreme temperature changes, both hot and cold. You may need to insulate the pipes to your boiler to avoid frost damage in the winter, and cool the loft space in the summer.
The boiler may be further away from water outlets, so pressure may be affected.
What are the requirements of installing a boiler in the loft?
As with all boiler installations, there are regulations that need to be followed. Your Gas Safe boiler installer will be aware of what is required, but here are the points from the official guidance:
The boiler must be mounted on a structurally safe wall.
There must be suitable flooring installed.
There must be lighting available.
The loft needs to be accessible with a retractable ladder and guard rail.
There must be an isolation point for the gas, water and electricity outside of the loft, so it can be turned off without accessing the loft.
It is advisable to fit a carbon monoxide alarm.
Compare Boiler Installers
No-obligation - Free of charge
Frost protection in a boiler
To make sure your boiler is running at maximum efficiency, you need to ensure it is protected from frost. Frost will cause damage to your boiler that could result in breakdowns that will be costly to repair and will leave you without heating in the colder months.
Most modern boilers will have frost protection mode preprogrammed into them, which means they automatically turn on when the temperature drops below a certain level.
There are also temperature control tools such as thermostats and timers that will protect your boiler from frost. The benefits of frost protection in a boiler are:
Less risk from frozen pipes
Prevent breakdowns
More cost-effective
More energy efficient
Make sure you confirm that your installer has fitted proper insulation where needed. This is particularly important if your boiler is located in colder areas such as a garage or uninsulated loft.
It is also important to know that the frost protection tools will only work when the boiler is turned on.
What other rooms are suitable?
If you are not able to install your boiler in the loft, or are having second thoughts after reading this guide, there are several other places where a boiler could be fitted including:
Garage: Installing your boiler in the garage means it is out of sight, and doesn't take up living space in the home.
However, the temperature needs to be considered as well as access. If you have concrete flooring and walls, the pipes will be visible. The boiler will also take up storage space in your garage.
Bathroom: Bathrooms provide easy access to the waste pipe. However there are additional regulations surrounding the pipework and placement, due to the increased moisture levels.
Bedroom: The bedroom is another option to place a boiler. It will free up living space inside your home, but you need to consider the space and the impact of the noise from your boiler.
Kitchen: Having a boiler in the kitchen will provide easy access, and it can be hidden in a cupboard. But it will take up valuable storage space.
Airing cupboard: If you have an airing cupboard, you could install your boiler in there, but it will take up space that was previously useful. Towels and bedding are often stored in the airing cupboard alongside the boiler to keep them dry.
Get quotes from boiler installers
You will need to contact boiler installers, to ensure your boiler is installed professionally.
With that in mind, it is advised to shop around to get a few quotes from several different reputable boiler installers. Get free boiler quotes now.