Installing a boiler in the kitchen can make it easier to maintain and saves space in other rooms in your home. But it is advisable to install a boiler in your kitchen?
This guide will help you decide if installing a boiler in your kitchen is the right decision for you.
Can you install a boiler in the kitchen (cupboard)?
The kitchen is a convenient and perfectly safe location to install your boiler. So your kitchen décor is not impacted, you can hide your boiler in a cupboard.
However, there are some regulations that you need to follow, to ensure your boiler is safe and compliant. Here are the things you need to consider:
The boiler needs to be easily accessible for servicing and repairs.
The boiler system needs to be small enough to fit in the cupboard.
You will lose cupboard space you are currently using.
You need to leave at least 50mm of space between the boiler and the cupboard.
There needs to be enough space for ventilation.
The space needs to meet the required fire safety standards.
The instruction manual for your boiler will provide specific details, and your boiler installer will make sure the guidance is followed.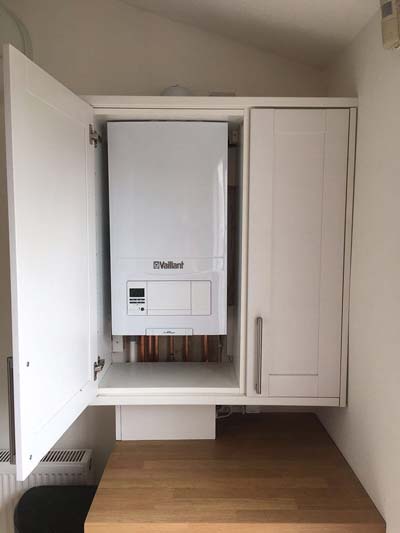 Which boilers are suitable for a kitchen?
A combi boiler is the best option for your kitchen, as they are compact enough to fit into a small cupboard space.
Storage combi boilers, system boilers and regular boilers can also be installed in a kitchen; however they are generally larger units that will take up more space.
Is it time to replace your boiler? Request free boiler quotes now.
How to hide your boiler
Below you find a few ideas on how to hide your boiler in a creative way.
1. Cupboard or cabinet
The kitchen is usually one of the most used rooms in the house, so you don't want an unsightly boiler spoiling the look of your kitchen.
Most people will choose to hide their boiler in a cupboard. You can use a cupboard space you already have, add a new cupboard, or hide it behind a kitchen cabinet.
2. Add a mirror
You can get creative and add a mirror to the cupboard or frame of your boiler. This will add that little something extra to a boring boiler, and create the illusion of a bigger space.
3. Curtains
Hiding your boiler behind a curtain is a very inexpensive and quick way to keep it out of sight.
Simply attach a pole around your boiler and add the curtain design of your choice.
4. Decorate the boiler cover
If it isn't possible to box your boiler in, you could opt to decorate it instead.
Add a mural that matches your décor, add some decorative stickers, or cover with a chalkboard to add a useful and quirky touch.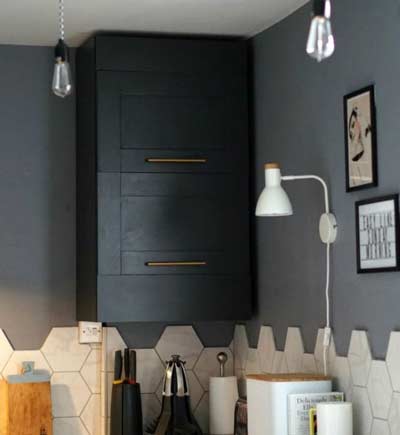 Source photo: smash.to
Can I install a boiler in the utility room as an alternative?
If you have a utility room in your home, you could install your boiler there instead. Here are some points to consider:
There will need to be space for the pipework.
It needs to be easily accessible.
If you currently use your utility space for storage, this will need to be moved.
Compare Boiler Installers
No-obligation - Free of charge
What other rooms are suitable for a boiler?
There are many other locations that are suitable for a boiler, but these should be assessed by a professional first.
Bathroom: Installing your boiler in the bathroom means you will have easy access to the waste pipe. However, there are extra regulations regarding pipework and placement due to the increased moisture levels.
Bedroom: The bedroom is ideal if you have a smaller home with little storage space. You will need to consider the noise from the boiler and the impact on your bedroom space.
Loft: The loft is a great place for a boiler, as it is out of the way. You will need to install a ladder to gain easy access.
Airing cupboard: If you have an airing cupboard, you could install your boiler there. You could also store towels in here to keep them dry, if the space is big enough.
Get quotes from boiler installers
To ensure your boiler is fitted safely and professionally, you'll need it to be installed by a gas safe engineer.
Get in touch with boiler installers through the WarmerInside quotation service. Request free, no-obligation quotes now.