Modern boilers are often compact, so can be hidden away discreetly within your home. A popular place to install a boiler is the bedroom. But is it possible?
If you think the bedroom may be the ideal place for your boiler, read on to find out if this is the best option for you.
What are the benefits of installing a boiler in a bedroom?
Installing a boiler in your bedroom can be a safe and convenient option. The few advantages are:
You will free up space in the area where the boiler was originally installed. Such as the kitchen or utility room.
It can be installed inside a cupboard, so it is hidden away and will match the decor of the room.
If you don't have a loft or utility room, installing a boiler in the bedroom won't take up valuable living space in the kitchen.
A boiler will become warm to the touch when it is working, which is perfectly normal. This will be great in winter, but may be a problem in the summer.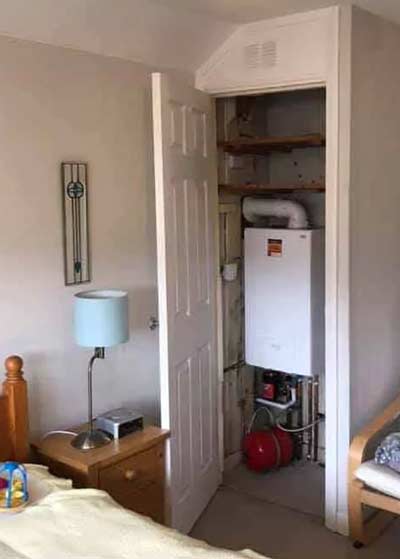 Source photo: heatsafeheatingltd.co.uk
Factors to consider when installing a boiler in your bedroom.
While it is safe (if installed properly) to have a boiler in your bedroom, there are some factors to consider before you go ahead with installation.
Here are a few of the main things you need to think about:
What are the regulations when installing a boiler in the bedroom?
As with all boiler installations, there are strict regulations that you need to comply with when installing a boiler in your bedroom.
There must be sufficient space around the boiler for circulation reasons.
The boiler will need a flue that can remove any waste fumes.
All boilers installed in a bedroom must be a sealed boiler system.
What is a sealed boiler system?
A sealed boiler disposes of any fumes outside, instead of into the room, which makes it perfectly safe to have in a bedroom.
Most new boilers are sealed, as they are safer and more efficient than unsealed boilers. When you install a boiler in a room that is used to sleep in, it cannot be a gas boiler over 14kw unless it is room sealed.
Before your boiler is installed, check it is a sealed system that complies with regulations.
Get a carbon monoxide alarm for your bedroom: A carbon monoxide alarm is inexpensive, but could save your life. You should always have a carbon monoxide alarm fitted when you have a boiler in your bedroom.
Carbon monoxide is extremely dangerous, so this is another important reason to get your boiler installed by a Gas Safe installer and serviced regularly.
Noise: Modern boilers aren't as loud as they used to be, but there will still be noise from your boiler. Especially in the winter when your boiler is used more regularly. If you are a light sleeper, this noise may disturb your sleep.
Cupboards will disguise your boiler: Installing a boiler will free up space in your home, but take up space in your bedroom. Although it can be placed inside a cupboard to disguise it, you will have less space in your bedroom for storage or furniture.
Compare Boiler Installers
No-obligation - Free of charge
Other places to install a boiler
Ideally, the best place for a boiler is the loft. Although it will take up some storage space, having a boiler in your loft means that it is out of the way, and doesn't impede on the living space in your home.
But if it is not possible to install your boiler in your loft or bedroom, there are other options including:
Bathroom: A bathroom is a popular location as there is easy access to the waste pipe. However, the increased moisture means there are extra regulations regarding pipework and placement.
Airing cupboard: If you have an airing cupboard, you could install your boiler in there, but it will take up the cupboard space that was previously useful.
Kitchen: Having a boiler in the kitchen will provide easy access, and it can be tucked away in a cupboard, but will take up valuable storage space.
Get quotes from boiler installers
To ensure your boiler is installed safely and professionally, you will need to get in touch with a local boiler installer.
Every installation is different, and an installer will be able to undertake a full assessment of your bedroom. Receive free and no-obligation quotes today.