Choosing the right model of boiler is essential to ensure you're able to heat your home efficiently. But which type of boiler is the best one for you?
There are various boiler systems , like non-condensing and condensing boilers. But what are the difference and similarities?
Non-condensing boiler?
A non-condensing boiler is also known as a traditional boiler and has a heat exchange chamber, which is heated via a flame commonly known as a pilot light.
They operate using either gas or oil and the gases pass through the chamber and transfer the heat to the water. Any excess moisture and waste gases are released through the exit flue.
Condensing boiler?
Condensing boilers are comparable to non-condensing boilers as they use a similar system and run on oil, LPG, gas or electricity, however they convert the excess water vapour into heat.
The large heat exchanger cools the gases before they escape, and the condensation that is formed as a result is what gives this boiler its name.
Condensing boilers explained
If you are looking for a highly efficient boiler, condensing boilers are very efficient and could save you money on your household bills each year.
They are designed to minimise heat loss, as the heat from the flue gases is recycled and used to heat your home. They also do not need a pilot light, as the electric spark only ignites when there is a need for hot water or heat.
Benefits
Condensing boilers are safer than non-condensing boilers.
They are much more energy efficient.
They are better for the environment.
They will reduce your household energy bills.
They will reduce your carbon footprint.
There is no risk of the pilot light going out.
Are you looking for a new energy efficient boiler? Get your free boiler quotes today from local installers.
What are the differences between a condensing and non-condensing boiler?
If you are deciding between these two types of boilers, you may wish to know the key differences between them.
Condensing boilers have a efficiency of around 95%. A non-condensing only around 75%.
Condensing boilers release less CO2 emissions.
Condensing boilers have larger heat exchangers.
Non condensing boilers have one heat exchanger, whereas a condensing boiler has two.
Condensing boilers recycle waste gases to heat your home more efficiently.
Condensing boilers present less risk of anything being sucked into the system.
Condensing boilers are completely sealed to improve insulation, whereas non-condensing boilers have an open vent to take in air from the room.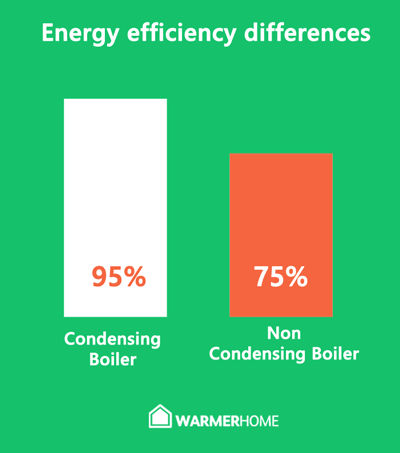 Get a new boiler installed and save money on energy. Request free quotes from local boiler installers today.
What are the regulations for condensing boilers?
You will find that most modern homes will have a condensing boiler, as in April 2005, regulations were introduced stating that all gas-fired boilers must be condensing, to decrease CO2 emissions.
In 2007, this also became law for oil-fired (combi) boilers.
The rules apply to all new boiler installations as well as replacements, and all new boilers now have to have a SEDBUK rating of A or B.
What are the exceptions to this rule?
Although this law is now in place, there are some exceptions. In older or period homes, it may be too costly or disruptive to change the boiler system, so the property would need to be assessed.
If you think that a condensing boiler is not suitable for your home, a gas certified technician must complete a full assessment to determine if a condensing boiler can be fitted or not.
If a condensing boiler is deemed not suitable for your home, you will be issued with a certificate. This certificate should be kept safe, as you will need to present it should you ever decide to sell your home.
What types of condensing boiler and fuels are available?
A condensing boiler system is available in many different models, so it's essential to understand which boiler will work best in your home. Here are a few of the systems available:
Combi Boiler
A combi boiler is a compact system that has a hot water and central heating system all in one unit. The water is heated instantly via the mains, so there is no need for water storage tanks.
System Boiler
This boiler system takes water directly from the water supply and generates heat using gas or electricity. Hot water is stored in a tank until it is needed in the home. It is also used in radiators for the central heating system, and can be reused multiple times.
Gas
Gas is the most commonly used fuel in UK households, as it is convenient and suits most types of home.
Do you want a more energy efficient gas boiler? Get free gas boiler quotes from local installers.
Oil
This type of fuel is less common, but is used in homes that are not connected to the gas mains. An oil tank will need to be fitted near the home and refilled when it is empty.
LPG
'Liquified Petroleum Gas' is an alternative for those not connected to the gas mains. It is a form of gas that turns to liquid at a very low pressure, so it can be stored and transported in a liquid form if needed.
Electric
Boilers that are powered by electricity are a popular choice as they are quieter and easier to install. They are also cheaper than other boilers to repair and maintain.
Get quotes from your local boiler installers
Not all boilers are suitable for all homes, so it's essential to check with your local boiler installer before you make a decision.
Request free and no-obligation quotes from different installers, to ensure you are getting a good deal. Get free boiler quotes now.