We are all becoming more conscious of our impact on the environment, but can this attitude be applied to our boilers?
Installing a new boiler can be a costly process, but they are an important part of our home life, so is buying a second-hand boiler a good idea?
Read on to find out more about the pros and cons of installing a second-hand boiler.
Can I buy a second hand boiler?
You can install a second-hand boiler in your home; however, it must conform to current regulations and be fitted by a qualified boiler installer. The cost of the boiler will be cheaper, but the installation costs will be similar.
You'll find second-hand boilers for sale on sites like Gumtree and eBay, however, they can be difficult to find. It's rare for people to dispose of their fully functioning boiler and lots of people that advertise privately like this are selling a boiler that has some kind of fault.
If you have a very tight budget a second-hand gas or electric boiler will be cheaper than a new one initially, but there are negatives to consider.
Can I sell my old boiler?
It's unlikely that your boiler will ever be reused. If your boiler is old, inefficient, or has no warranty, you will struggle to find anyone that wants to buy it to re-install.
Here are some ideas on how to dispose of your boiler:
If you are keen on your boiler being recycled, you could sell it for parts. You won't get a great deal of money for it, but at least the parts are being used.
You could take to your local scrapyard.
Check if your local waste disposal centre will accept boilers, or if they will recycle the parts.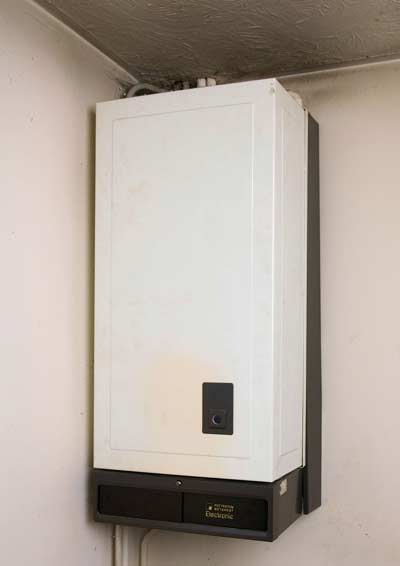 Why buying a new boiler is a better option
When purchasing or replacing your boiler, it is always best to purchase a new model if possible. The main benefits of purchasing a new boiler are:
They are safer.
New boilers meet all current regulations.
They are very efficient.
You can get the perfect boiler model and size for your home and lifestyle.
New boiler come with a guarantee.
Do you want to save money on energy? Why not replace your old boiler with an energy efficient one. Get your free boiler quotes here.
1. Energy efficiency
New boilers are much more energy efficient than second-hand boilers. The technology used in boilers is evolving quickly, so without a new boiler you will be left behind.
A brand new boiler is a long-term investment that will save you money over time, as your energy bills and repair costs will be less.
2. Parts and spares are not available
If you buy a second-hand boiler, you may struggle to find parts if repairs are needed. Boiler manufacturers may no longer produce the boiler model, so the parts are no longer made.
You may have to pay a premium to get the parts, or they may not be available at all. You can get in touch with the manufacturer directly to check if any parts are obsolete.
3. Warranties and guarantees
If you install a second-hand boiler, any warranty or guarantee that was still available on the boiler will be cancelled. This means you will have to pay the costs incurred from any boiler problems.
You also will struggle to get boiler insurance on a second-hand boiler, so you will need to pay the fill costs for any services or repairs.
Warranties and guarantees give you peace of mind that your boiler will be repaired if there are any issues. You should check that your new boiler comes with at least a 3-year warranty.
Save money on a new boiler
Although a new boiler will cost more initially, you will save money by choosing to install a new boiler. There are ways to purchase a new boiler and still save money.
Here are some ways you can purchase a new boiler more cost-effectively.
1. Buy an ex-display boiler model
A great way to save money on a new boiler is to purchase an ex-display model. You can contact local plumbing or boiler showrooms to find out if they have any boilers on display that are for sale.
They may have been sitting on a shelf for months, but they are in good condition and may still have a warranty. You could save up to £200 by purchasing a new boiler this way.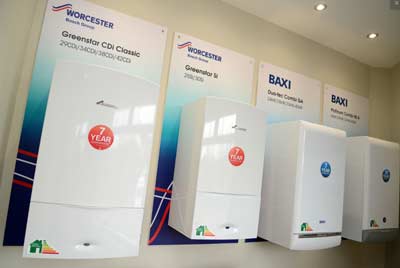 Source photo: whickhamplumbingservices.co.uk
2. Choose the right size boiler
Could you live with a smaller boiler? If so, you could save money. Less powerful boilers are generally less expensive so if you live in a small property with one or two people, this could be a great option.
Compare Boiler Installers
No-obligation - Free of charge
3. Am I eligible for a free boiler grant?
You could be eligible for a free boiler if you meet certain requirements set out by the ECO (Energy Company Obligation) scheme. If you own your own home, receive benefits, live in England, Wales or Scotland and have a boiler that is over 10-years old you could receive a grant towards purchasing a new boiler.
Premium boilers are not included in the scheme, so you may get a lower quality boiler.
Get quotes from boiler installers
Once you have selected a boiler, the next step is to get it installed by a qualified boiler installer. You may struggle to find a professional willing to install a second-hand boiler, so a new boiler is the best and safest option.
Use the free quotation service below to compare boiler installers now.