Replacing your windows can be expensive, so you may be considering second hand uPVC windows.
But is it a good idea? Although you may think it is a cheaper option, there are some things to consider.
Can I buy second hand windows (and doors)?
uPVC windows, as well as doors are often custom made so it will be difficult to find second hand windows that are the right size for your property.
There are second hand windows available on online marketplaces such as eBay and Gumtree but generally, if people are selling windows it is because they have some sort of issue or fault.
So be sure to check the windows carefully before you make a purchase:
Check the sizes carefully;
Check for any cracks or missing parts;
You will not get a warranty or guarantee.
Can I sell my old uPVC windows?
When you replace your uPVC, your window installer may offer to take them away for you as part of their service, or you may have to dispose of them yourself.
Often, people sell their old uPVC windows to waste companies who use them for scrap, and in some cases they can be recycled.
Recycling is a more sustainable option that is better for the environment.
Companies such as Eurocell will collect your uPVC windows and recycle the materials into new products.
VEKA recycling has processes that allow uPVC to be reused 10x times. They offer a straightforward process that is cheaper than you may expect.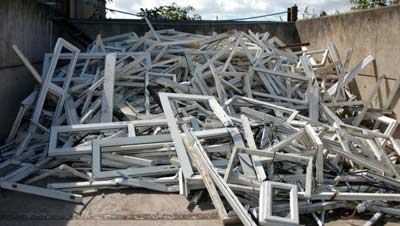 Source photo: coresashwindows.co.uk
Why buying new uPVC windows is the better option
If you're able to, buying new uPVC windows is a much better option. Get free quotes from uPVC windows installer now.
There are many advantages to installing new uPVC windows including:
1. Exact dimensions/sizes
There is no 'one size fits all' when it comes to windows. All properties will have a unique window size that needs careful measurement. They come in a variety of shapes and sizes and their sizes can change over the years.
An uPVC window installer will know the correct measuring and fitting techniques to ensure your windows fit perfectly and last for years to come.
2. Not enough second uPVC windows to replace all your old windows
As you search the web, you'll find there are some second hand uPVC windows available, but they are ad-hoc and irregular. It's unlikely that you will find enough second hand uPVC windows to replace all of your current windows.
Buying second hand is more viable if you only have 1 or 2 windows to replace.
Here are some points to consider:
There may not be enough of the same window.
Your windows will look mis-matched.
The second hand windows may be discoloured.
3. Warranties and guarantees
When you purchase new uPVC windows, they will come with a warranty or guarantee.
Warranty: A warranty is like an insurance policy for the reliability of the parts.
Guarantee: A guarantee is a contract that means the uPVC manufacturer will take care of repairs or replacements within a given period.
Look for a warranty of at least 10 years.
Check the terms and conditions which may include annual servicing.
They give you peace of mind that your windows are covered if there are any issues.
Compare uPVC Window Installers
No-obligation - Free of charge
Benefits of new uPVC windows
Here are some of the benefits of purchasing new uPVC windows:
New generation uPVC windows are very energy efficient, which will reduce your energy bills.
You will get a guarantee and warranty.
The new generation of glazing is highly insulating.
They will improve the look of your home and could add to its value.
Modern uPVC is exceptionally durable and reduces outside noise.
How to save money when buying new uPVC windows.
There are ways to make purchasing new uPVC windows at a lower cost by making cost-effective decisions.
1. Choose standard coloured uPVC windows
In most cases, the white framed uPVC windows are the most affordable as this is the standard colour and requires little extra work to make.
For reference, the RAL colour code for pure white is 9001 and cream is 9010.
2. Choose glazing that insulates well
There are several options when it comes to glazing. Modern uPVC windows are energy efficient and the glazing you choose can increase this further.
Double glazing units are the most popular option and will insulate your home very well.
Triple glazing will insulate your home better but is more expensive.
3. Choose more fixed windows, than openable windows
By choosing more fixed UPVC windows, you will keep the cost of your new windows down.
The mechanisms in opening windows make them more expensive to make and therefore purchase, so think carefully about how many opening windows you really need.
Get quotes from uPVC window installers
You should hire a local uPVC window installer to install your windows safely and professionally. By hiring a qualified fitter, your windows will be installed properly and will come with a guarantee.
Through the free WarmerInside quotation service you can find and compare quotes quickly.