Your boiler should be in a convenient location, that is easy to access and suits the aesthetics of your home.
But if it's not, you may want to think about moving your boiler. Deciding to move or replace your boiler can be a stressful time, but it doesn't have to be.
We have put together this helpful guide about relocating your boiler or installing a new boiler in a different space.
Why do you want to move your boiler?
Homeowners choose to move their boiler for many reasons, most of which are associated with the aesthetics, space and layout of the home.
One of the main reasons is to free up space by moving the boiler to a more convenient location.
Boilers are also moved to make their location safer, to improve their efficiency, or as a result of home improvements.
Boilers that are located close to bedrooms can also be very noisy, so moving them to a quieter location will stop the annoying 5am wake up calls from the mechanical noises of your boiler.
How much does it cost to move a boiler?
The cost of moving a boiler will vary depending on the type of boiler you have, where you are moving it to, and the work involved.
When you move the boiler, the pipework has to move with it, so moving your boiler a meter  will cost more than moving it to a new location entirely.
What are the average costs?
The average costs in the overview below include labour and material costs without a new boiler.
Moving
Avg. costs
Moving it a (few) meter(s)
in the same space
£400
Moving to a different space
£600 -£900
Moving to different space
with new pipework and drilling
£800-£1,100
Extending flue per meter
£125
Installing a new flue
£550
These amounts are estimates and the total cost will take into consideration several factors including:
If your boiler is moved away from the waste pipe, you will need more pipework to connect the two.
The difference in installation costs in different areas.
The cost of pipework.
Scaffolding if roof access is needed.
The time it takes to complete the work.
The cost of a new boiler if you are buying a replacement. (between £800 – £2,500 depending on the model and boiler manufacturer).
The cost of any home repairs and replacements.
Where you are relocating your boiler to. (The further away from its original location, the more expensive it will be).
The cost of additional items such as thermostats, pipe insulations and specialist wiring.
An extra tip from us is to factor in a little extra money, for any surprises that may pop up along the way.
Where should your boiler be located?
When considering where to place your boiler, care should be taken to ensure it is placed in a practical location that fits with current regulations, so it's important to think about the following:
Will a boiler service engineer be able to access the boiler with ease?
Can the flue be installed at least 60cm away from a window or door?
Is there easy access to a waste pipe?
Can you afford the labour charges if the new location requires lots of extra pipework or changes to your home?
Will the pipes be on show?
Is the wall strong enough to support the boiler?
The most common locations for boilers to be moved to are:
Bathroom
This is often a great choice as bathrooms generally don't have many windows and there is easy access to a waste pipe.
But there are extra regulations regarding wiring when installing a boiler in a bathroom due to the moisture and steam, so check with your boiler installer.
Loft
You can also move your boiler from downstairs to upstairs. Installing your boiler in the loft means you won't be using up any living space in your home. However, your loft must be boarded and have lights installed to ensure it is easily accessible.
The boiler installer will also need to access your roof during installation. The loft is also not a practical option for elderly or disabled homeowners due to access.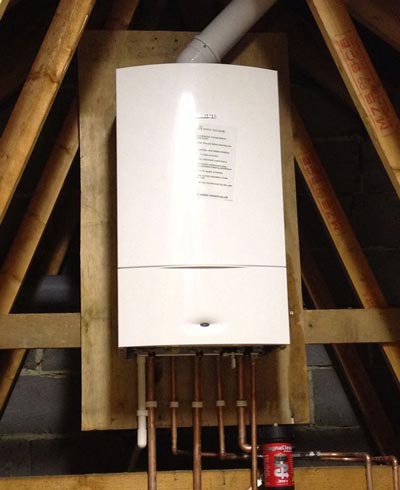 Source photo: pandaplumbing.co.uk
Utility room
The utility room will often not interfere with your day to day living space, so it is a good place for a boiler.
However, the area around the boiler will need to be clear and free of clutter, so if you use your utility area as a storage or laundry room, this may not be suitable.
Airing cupboard
This is a popular location as it does not take up space in other rooms, and it is common for homes to have a boiler in the airing cupboard. If there is a bedroom or an extension nearby, be sure to check that the noise will not affect them.
Kitchen
A kitchen is a good option as it is easy to access, and compact boilers will slot away easily and discreetly in a cupboard. As with the bathroom, there are further regulations regarding the installation due to the moisture.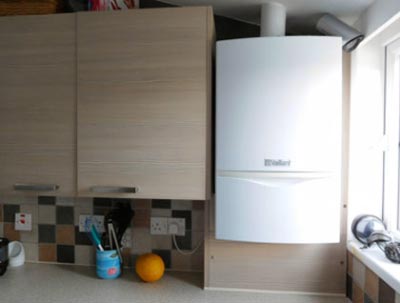 Source photo: diydoctor.org.uk
Garage
Installing your boiler in the garage ensures it is not using any living space, but the temperature needs to be considered as well as access. The boiler will take up storage space and if you have concrete flooring, the pipes will be visible.
Source photo: ajtplumbing.co.uk
Do you want to relocate your boiler? Get free quotes from different boiler installers near you.
Things to consider when moving a boiler
A Gas Safe installer will have lots of experience in moving boilers, but that does not mean it is always a straight forward job.
There are pros and cons to each location, so be sure to take these into consideration before you make the move. To work out which location will work best for you, the main points to consider are:
1. Disruption
When moving a boiler, there will be disruption to your home due to the maintenance work that needs to be completed. This could include channelling out walls for pipes, taking up floorboards and carpets, and drilling holes in your walls.
By law, all new boilers must be condensing, so a discharge pipe that leads outside will need to be fitted.
2. Time
Depending on the complexity of the job, relocating your boiler can take a day or two, so you will be without heating and hot water until the move is completed.
3. Cost
This is a key element of your decision and you should think about the total costs involved. The further away you move the boiler, the more pipework will be needed.
You should also consider that some installations can be harder than they first appear, so the price may increase during the installation.
You find more information under the header: 'How much does it cost to move a boiler?'.
4. Hot water delay
If you move your boiler further away from your taps, such as into a loft or garage, it will take longer for the hot water to reach the outlets, so you may have to wait longer for hot water.
On the other hand, if you are moving it closer, the waiting time will improve.
5. Cold weather
If you are thinking of installing your boiler in the loft or garage where the temperature is not regulated, you will need to have thermal protection to prevent the pipes from freezing, and you may need to have a frost thermostat installed.
Add a boiler in a new space, or replace an existing one. Get your free quotes now.
Do I need a new boiler, or can I relocate the existing one?
While you are making the decision to move your boiler, you may also wish to consider taking the opportunity to replace your boiler at this time.
The estimated lifespan of a boiler is around 10-15 years, so if you are considering moving a boiler that is around this age, a new boiler may be a more cost effective option.
Often the cost of moving a boiler can be similar to installing a new one. You don't want to pay for the costs of moving your boiler, and then have to pay for a new boiler soon after.
Consider replacing your boiler if:
Your boiler is over 10 years old.
You would like a new type of boiler.
It is no longer covered by warranty.
The model has been discontinued.
You would like a more energy efficient boiler.
You would like to reduce your energy bills.
New boilers are cost effective and energy efficient, so although you will need to pay the upfront costs, they will save you money long term.
Another reason to consider replacing your boiler is the availability of parts, an old boiler may no longer be in production so parts may be difficult to find and expensive.
However, if your boiler is fairly new or still covered by warranty, there is no need to replace it.
Get quotes from boiler installers
Once you have considered your options and decided where you would like to relocate your boiler, the next step is to hire a boiler installer to complete the work.
It is important to use the expertise of a Gas Safe Registered installer, who will ensure your boiler is moved safely and efficiently.
They will also give you advice and answer any questions you may have. Get your free boiler quotes now.