Back boilers were a great space saver and cheap to install, but in the modern world, they aren't very efficient. Back boilers are fast becoming a thing of the past. But what do you do if your home has one?
If you have a back boiler fitted in your home, this guide will help you decide the best way to upgrade or remove your boiler system.
What is a back boiler?
A back boiler may be a system you have never heard of.
So, what is it?
A back boiler is an old style heating system. The most popular back boilers by far were the Baxi Bermudas. Almost every back boiler installed in an older home was a Baxi Bermuda.
The unit is fitted behind the fireplace in the home, and uses the heat generated to produce hot water that is used throughout the home.
They are fitted behind gas or electric fireplaces, but are also found behind open fires too.
The flue from the chimney is already in place, so installation was fairly simple and cheap for homeowners.
Although the boiler unit was tucked away, this system needs to have a separate water tank and hot water cylinder connected to it. These tanks are usually situated in the loft.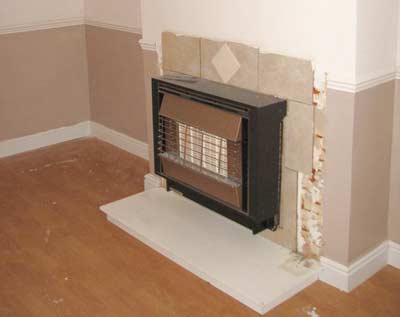 Source photo: for-sale.co.uk
Should I replace my back boiler?
If you have a back boiler in your home, you're probably already aware it is not an energy efficient or practical system. If the system was installed in the 60's, 70's, or 80's, it is definitely time to upgrade your system and take advantage of the evolution in boiler technology.
Most boiler installers will advise you to replace your back boiler system and here are a few of the main reasons why:
Replacement parts are difficult to obtain.
They are not energy efficient.
Fitting a new boiler system will save you money on your household bills.
Your back boiler may be unsafe.
Whilst back boilers are quite unsightly; a new boiler can be hidden in an airingcupboard or the loft to maximise your space and make your home more attractive.
They do not meet the modern Gas Safety regulations.
If you are selling your home, a new boiler is a great selling point.
Can I get a new back boiler installed?
Back boilers are no longer manufactured and are not a safe boiler system. Therefore, you won't be able to have a new one installed in your home. However, there are many homes in the UK that still have one.
If your back boiler is broken, it's unlikely you will be able to find the parts to repair it, and it will be very expensive.
A boiler expert is likely to suggest that you replace your boiler with a modern system that is safer, compliant with regulations, and reliable.
Get your backboiler replaced by a combi or other type of boiler. Receive free quotes now.
Removing a back boiler
If you are having a new boiler installed, it is important that the back boiler is removed professionally.
A Gas Safe boiler installer will need to remove your back boiler to ensure it is done properly and safely, and that all the pipework is disconnected.
As they are behind fireplaces, the removal process can be messy. Flooring and walls may become damaged, as the pipework may be embedded into your walls.
If the old boiler is left, it can be a real danger in your home because:
The boiler will retain moisture and could create steam.
If the boiler is not vented properly or filled in, it could cause an explosion.
It could cause injury to you or your family.
Corrosion of pipework.
It is a fire hazard.
It can cause structural damage to your home.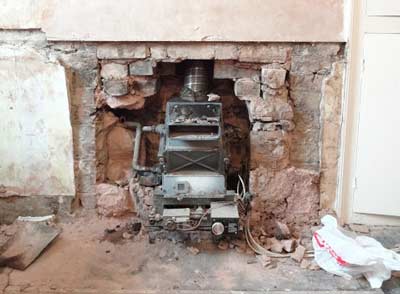 Source photo: kezzabeth.co.uk
Replacing your back boiler
Your old back boiler system will need to be removed and replaced. A boiler expert will upgrade your system and replace it with a modern energy efficient alternative. Your new boiler will run on gas, electric, oil or LPG depending on your home's energy source.
If you are used to your boiler being hidden, your new boiler will take up space. Most people have their boiler in an airing cupboard, loft, or kitchen cupboard.
By installing a new boiler, you will also benefit from the new technology such as smart meters and phone apps that control your heating system.
There are a variety of boilers to choose from, and we have detailed the most popular choices below:
1. Replace your back boiler with a combi boiler
Although back boilers are known for being durable and can last longer than modern boilers, technology and safety guidelines have improved significantly, and back boilers just don't meet these requirements.
Combi boilers are a popular choice for many homeowners when they need to replace their back boiler. They heat hot water and central heating for the home simultaneously, hence the name 'combination'.
The benefits of installing a combi boiler are:
Installation costs can be less than repairing or getting replacement parts for a back boiler.
Combi boilers can be installed quickly.
Combi boilers are very energy efficient.
They are compact and do not need a hot water cylinder.
A combi boiler will last around 15-20 years.
Parts are readily available for combi boilers, unlike back boiler parts.
They are exceptionally reliable.
They are better for the environment, as you use less water as it is heated instantly.
Choosing an A-rated boiler will save you money on your household bills.
Compare Boiler Installers
No-obligation - Free of charge
2. Can I replace a back boiler with a system boiler?
You may decide to replace your back boiler with a system boiler. A system boiler is different to a combi boiler, as it requires a separate cylinder for storing hot water.
This boiler system takes water directly from the water supply, which is then heated using gas or electricity.
It is then stored in a hot water tank until it is needed in the home. A boiler installer will be able to give you the best advice on which boiler will be best for your home.
Benefits
More compact than a back boiler, but takes up more space than a combi boiler.
Good for homes with multiple bathrooms.
Best for homes with high hot water demand.
You may also need a water tank in your loft.
What are the costs of replacing a back boiler?
You will need to be aware of how much the removal and replacement of your back boiler is going to cost. This includes removal work, parts and labour. It is important to note that no two boiler installations are the same, and there are lots of individual factors that can affect the overall cost.
Think about your personal requirements and take the following into consideration:
The cost of repairing any damage to your home whilst removing the back boiler.
The cost of cleaning any carpets or furniture after removal.
Removing your back boiler and installing a new one will take around 2-3 days, so you will need to consider the labour costs.
The size of your fireplace/boiler.
What are the removal costs of a back boiler?
The first thing the installer will need to do is remove the back boiler. This will include removing any redundant pipework, making the area gas safe, and disposing of your old boiler.
The average cost for the removal are £1,000+, but will depend on the size of your boiler and difficulty of the removal.
Are you curious about the exact removal costs for your back boiler? Get boiler quotes here.
What are the costs of replacing a back boiler?
Once the back boiler is removed; you will need to have your new boiler installed.
There will be an initial cost for the boiler system, which will depend on the type of boiler you have installed and the quality of the boiler unit.
A new combi boiler replacing a back boiler will cost around £2,500* to install.
And a new system boiler replacing a back boiler will cost around £3,100* to install.
*These costs include labour costs and a premium A-rated boiler system, which is recommended as they offer the best value for money and are the most energy efficient.
There are additional costs you will need to consider:
The position of the new boiler and any tanks.
The installation of new pipes and flues.
Any repair work to your walls/flooring.
Get quotes from boiler installers
Once you have decided to replace your back boiler, the next step is to find a professional boiler installer. Every home is different, and they will be able to offer advice on the best course of action, and answer any questions.
It's important that your boiler is installed by a certified professional and you're happy with the costs involved.
Use the WarmerInside free quotation service to receive multiple no-obligation quotes from (local) boiler installers.